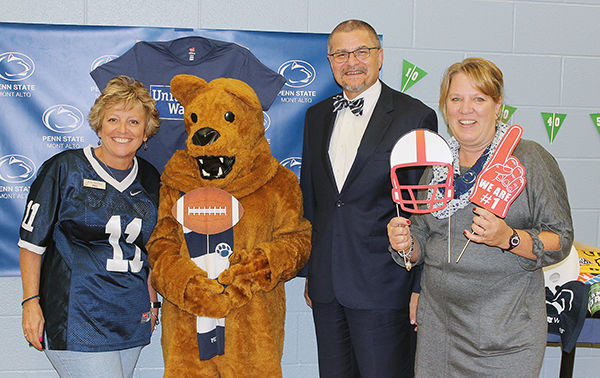 MONT ALTO, Pa. — United Way of Franklin County held a tailgate campaign kick-off event at Penn State Mont Alto on Sept. 21 in the Multipurpose Activities Center. Those in attendance had the opportunity to meet the Nittany Lion, enjoy a tailgate-style lunch, play games, and hear lively band music.
They also had the chance to learn about what United Way does and its impact on Franklin County.
"The campaign theme this year is to educate everybody about the United Way and what we do," said United Way Campaign Chair Kim Shockey. "So what better setting then Penn State Mont Alto to have our kick off?"
United Way Board Chair Mike Doncheski, who also serves as Penn State Mont Alto's chief academic officer, welcomed the crowd. Amy Hicks, United Way executive director, thanked those in attendance and introduced Shockey, who described United Way's impact on Franklin County and encouraged volunteer participation and donor support.
According to Shockey, United Way helped 22,000 people last year.
"That makes a difference, but that is just a start of the difference United Way makes in Franklin County," Shockey said.