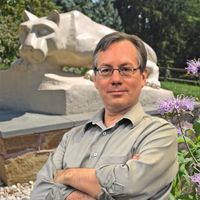 Penn State Mont Alto | 1 Campus Drive | Mont Alto, PA 17237
Biography

Peter Dendle

Degrees

Ph.D. in English, University of Toronto (1998)
M.A. in Philosophy, University of Kentucky (1993)
M.A. in English, Yale University (1991)

Courses Taught

ENGL 15: Rhetoric and Composition
ENGL 30: Honors Freshman Composition
ENGL 202C: Effective Writing: Technical Writing
PHIL 4: The Human Condition
AMST 196/ENGL 196: Introduction to American Folklore

Faculty Scholarly Activities

"Demon Possession in Anglo-Saxon England." Medieval Institute Publications (Western Michigan University), 2014.
Asa Mittman with Peter Dendle, co-editors. "The Ashgate Research Companion to Monsters and the Monstrous." Ashgate (UK), 2012.
"The Zombie Movie Encyclopedia, Volume 2: 2000-2010." Jefferson, NC: McFarland, 2012.
"Demons of the Water: Anglo-Saxon Responses to the Gerasene Demoniac," in Stacy S. Klein and William Schipper, eds. "The Maritime World of the Anglo-Saxons" (Tempe, AZ: Arizona Center for Medieval and Renaissance Studies, 2014): 187-208.
Publications

Yasmine Musharbash and Geir Henning Presterudstuen, eds. "Monster Anthropology in Australasia and Beyond." Palgrave Macmillan, 2014. , Journal of the Royal Anthropological Institute - December, 2017

M.R. Rambaran-Olm, "John the Baptist's Prayer or The Descent into Hell from the Exeter Book: Text, Translation, and Critical Study." Cambridge, UK: D.S. Brewer, 2014., Speculum - April (2nd Quarter/Spring), 2017

Philip C. Almond. The Devil: A New Biography. Ithaca: Cornell University Press, 2014., Magic, Ritual and Witchcraft - 2016

Georges Minois. The Atheist's Bible: The Most Dangerous Book that Never Existed. Trans. Lys Ann Weiss. University of Chicago Press, 2012. - 2015

Health and Healing from the Medieval Garden

Colin Adams. "Zombies & Calculus", Math Horizons - September, 2015

Allen J. Frantzen. Anglo-Saxon Keywords. Wiley-Blackwell, 2012. - January (1st Quarter/Winter), 2015

"Demons of the Water: Anglo-Saxon Responses to the Gerasene Demoniac" - 2014

Demon Possession in Anglo-Saxon England

"Anglo-Saxonism in the Harry Potter Series", Critical Insights: Contemporary Speculative Fiction - May, 2013

Epilogue: Inscribing the Devil in Cultural Contexts, The Devil in Premodern Society - October (4th Quarter/Autumn), 2012

The Devil in Society in Premodern Europe - October (4th Quarter/Autumn), 2012

The Zombie Movie Encyclopedia, Volume 2: 2000-2010 - September, 2012

Conclusion: Monsters and the Twenty-first Century: The Preternatural in an Age of Scientific Consensus, The Ashgate Research Companion to Monsters and the Monstrous - April (2nd Quarter/Spring), 2012

The Ashgate Research Companion to Monsters and the Monstrous - April (2nd Quarter/Spring), 2012

"Cryptozoology and the Paranormal in Harry Potter: Truth and Belief at the Borders of Consensus", Children's Literature Association Quarterly - December 31, 2011

"Ode 1 to Car Talk", Light: A Quarterly of Light Verse - October (4th Quarter/Autumn), 2011

"And the Dead Shall Inherit the Earth" (Section Preface), Better Off Dead: The Evolution of the Zombie as Post-Human - September, 2011

"Zombie Movies and the Millennial Generation", Better Off Dead: The Evolution of the Zombie as Post-Human - September, 2011

The Natural and the Supernatural in the Middle Ages, The Medieval Review - 2009

"The Old English Life of Malchus and Two Vernacular Tales from the Vitas Patrum in MS Cotton Otho C.i: A Translation", English Studies - November, 2009

"Monsters, Creatures, and Pets at Hogwarts: Animal Stewardship in the World of Harry Potter", Critical Perspectives on Harry Potter - January (1st Quarter/Winter), 2009

"Introduction", Health and Healing from the Medieval Garden - 2008

"Plants in the Medieval Cosmos: Herbs, Divine Potency, and the Scala natura", Health and Healing from the Medieval Garden - 2008

Introduction, Health and Healing in the Medieval Garden: Proceedings from the 15th annual Medieval Studies Conference at Pennsylvania State University - 2008

"Health and Healing from the Medieval Garden" - 2008

6 reviews of books, theses, and articles, Year's Work in Old English Studies - 2008

"Demon Possession in Anglo-Saxon and Early Modern England: Continuity and Evolution in Social Context", Journal of British Studies - October (4th Quarter/Autumn), 2008

"The Age of Faith": Everyone in the Middle Ages Believed in God, Misconceptions about the Middle Ages - 2007

The Middle Ages were a Superstitious Time, Misconceptions about the Middle Ages - 2007

The Zombie as Barometer of Cultural Anxiety, Monsters and the Monstrous: Myths and Metaphors of Enduring Evil - 2007

"Gregory of Tours", Irish Journal of Gothic and Horror Studies - October (4th Quarter/Autumn), 2007

Gábor Klaniczay and Éva Pócs, eds. "Communicating with the Spirits", The Medieval Review - January (1st Quarter/Winter), 2007

Benjamin C. Withers and Jonathan Wilcox, "Naked before God: Uncovering the Body in Anglo-Saxon England", Modern Philology - 2006

Helen Gittos and M. Bradford Bedingfield, eds. "The Liturgy of the Late Anglo-Saxon Church", Studia Neophilologica - 2006

How Naked is Juliana?, Philological Quarterly - 2006

How Naked is Juliana?, Philological Quarterly - 2006

The Textual Transmission of the Old English 'Loss of Cattle' Charm, Journal of English and Germanic Philology - October (4th Quarter/Autumn), 2006

Cryptozoology in the Medieval and Modern Worlds, Folklore - August, 2006

Mark Amodio and Katherine O'Brien O'Keeffe, eds. "Unlocking the Wordhord: Anglo-Saxon Studies in Memory of Edward B. Irving, Jr.", Modern Language Review - 2005

R.D. Fulk and Christopher M. Cain, "A History of Old English Literature ", The Medieval Review (online, hosted by University of Michigan) - 2005

Schizophrenia in the Early Middle Ages: Some Negative Evidence, Australian and New Zealand Journal of Psychiatry - January (1st Quarter/Winter), 2005

Review of Armando Maggi, "Satan's Rhetoric: A Study of Renaissance Demonology" (Chicago: University of Chicago Press, 2001). - 2001