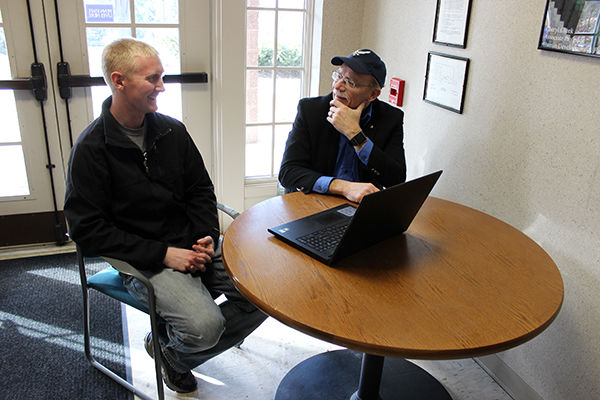 MONT ALTO, Pa. — Penn State Mont Alto launched a Veterans' Mentoring Program in January that connects veteran students with former military faculty and staff volunteers. The program will provide support to student veterans transitioning to higher education and future civilian careers. While the program requires meetings at the beginning and end of each academic term, the students and mentors will largely define the goals of the mentorship together.
"We wanted to do something not to just help vets transition to college, but also to help them thrive, succeed after college, and stay in touch after they graduate," said Francis K. Achampong, Penn State Mont Alto chancellor, during a meeting to announce the program and introduce the mentors to student veterans.
All student veterans who are enrolled at Penn State Mont Alto are encouraged to participate in the program. There are currently 42 student veterans at Mont Alto who come from diverse military backgrounds and represent various ages, education levels, ranks and branches of the military.
"While student veterans feel more comfortable with each other as their own support network," said Achampong, "a more holistic approach is to provide a support network with a mentorship in tandem with Mont Alto's Academic Affairs, Student Affairs, and Career Counseling staff."
The program includes members of Penn State Mont Alto's faculty and staff who also come from diverse military backgrounds, in addition to two staff members, Mont Alto's veterans' certifying official and the Academic Support Center's student advocacy specialist. Other staff members are also serving as resources to the program, including the career services coordinator and campus nurse and counselor. In order to incorporate best practices into the program, each has completed the Penn State World Campus course "Serving Those Who Have Served."
"The mentor program is a great addition to Mont Alto's commitment to the veteran community," said Benjamin Stephey, president of the Penn State Mont Alto Student Veterans' Association and a U.S. Army veteran. "This program is more than just a simple meet and greet; it provides the opportunity for veterans to build a relationship with faculty and staff members on a personal and professional level. Simply put, it is another resource at their disposal."
This initiative augments several efforts to support veteran students at Penn State Mont Alto. In fall 2014, the University opened its Veterans' Center, giving student veterans a place to gather, help each other with classes, study and share stories. The Mont Alto campus is also a signatory of the Education Pillar of "Got Your 6," the "8 Keys to Veterans' success," and participates in the "Principles of Excellence" in recruiting and retaining veteran students. In addition, the campus dedicated the Penn State Mont Alto Veterans' Memorial in 2012, which was largely funded by the Student Veterans Association (SVA).
"While the Veterans' Center plays a key role in supporting student veterans, our idea is not to just give vets a space," said Achampong. "We know they are a unique group who come with unique challenges and that their transition to higher education can be more complicated."