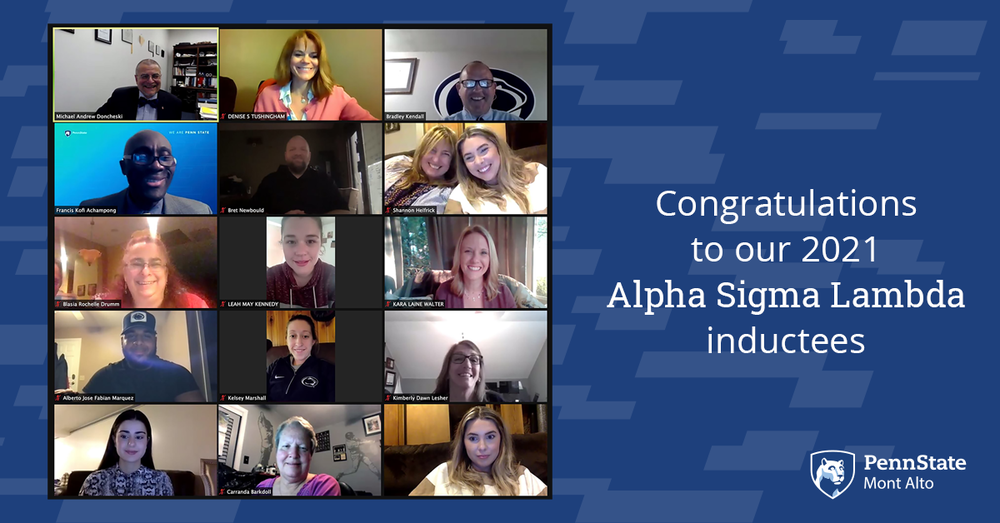 MONT ALTO, Pa. — Twelve Penn State Mont Alto adult learners and one staff member were inducted into the Zeta Pi chapter of Alpha Sigma Lambda, the nation's oldest and largest honor society for nontraditional students, on Wednesday, April 14.
Conducted via Zoom due to ongoing COVID-19 limitations on in-person gatherings, the ceremony was emceed by Bradley Kendall, Penn State Mont Alto supervisor of maintenance and operations, and Alpha Sigma Lambda member and Penn State Mont Alto Chief Academic Officer Michael Doncheski, who also serves as the Alpha Sigma Lambada councilor.
"Although tonight's ceremony is virtual, that does not diminish the significance of what you have accomplished as students with adult responsibilities," said Chancellor Francis K. Achampong in his welcome remarks to the inductees. "We are very proud of you, and you should be very proud of yourselves, too."
Alpha Sigma Lambda was founded in 1946 by Rollin Posey, dean of the University College at Northwestern University, in part to honor individuals continuing their academic pursuits following World War II. The Mont Alto chapter was approved in 2001 and has inducted 419 students since its inaugural class.
To qualify for membership, students must have completed 30 Penn State credits, maintain a 3.20 GPA, and be at least 23 years old.
This year's inductees are:
Sevda Akhmedova
Blasia R. Drumm
Shannon Nicole Helfrick
Holly Hemler
Leah Kennedy
Kimberly D. Lesher
Alberto Fabian Marquez
Kelsey Marshall
Bret Newbould
Denise Tushingham
Kara L. Walter
Trevor Welch
Shawn Albright, network and systems administrator for Penn State Mont Alto, honorary member