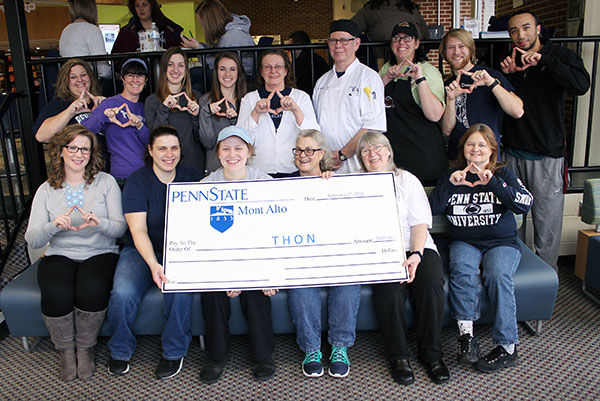 MONT ALTO, Pa. — Penn State Mont Alto's Housing and Food Services (HFS) staff donated $420 on Feb. 17 to the campus' Penn State IFC/Panhellenic Dance Marathon group, affectionately called THON.

THON adviser Donna Rhodes, coordinator of student activities and program development, accepted the donation on behalf of THON. The money will benefit The Four Diamonds Fund at Penn State Children's Hospital to fight childhood cancer.

The funds were collected throughout the 2015-16 fall and spring semesters from staff members who donated $2 each Wednesday for the benefit of swapping their uniforms for Penn State T-shirts and blue jeans.

"It is a chance for all of us to have a little bit of fun, get to dress down for the day, and do something for someone else," said HFS staff member Darla Barkdoll, who collected the funds for the group.

"We thought it would be a nice way to give back to the community," she said.

THON was selected as the beneficiary by majority vote, according to Barkdoll.

"We thought our funds would help THON. In addition, some of the dancers work in The Mill (Cafe)," she said.

This is the second year the group has chosen to dress down for a cause. Previously, funds went to Pregnancy Ministries, a local nonprofit organization that supports individuals "in pregnancy and related areas," according to its website.

The group has also donated to a local family that lost its house in a fire, according to Barkdoll.

Director of Housing and Food Services Elizabeth Kearns is pleased about her staff's efforts in giving back. "I am very proud of my staff, and I am especially proud of how dedicated they are to the students," she said.