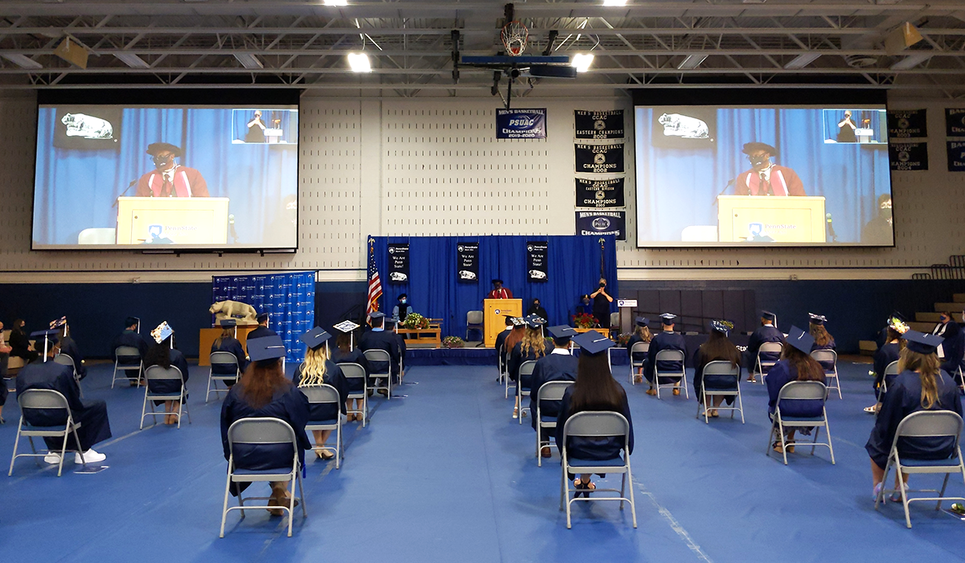 MONT ALTO, Pa. — On Saturday, May 8, 2021, Penn State Mont Alto celebrated the Class of 2021 in two in-person commencement ceremonies held on campus in the Multipurpose Activities Center (MAC). Commencement speaker Roxanna Gapstur, president and CEO of WellSpan Health, delivered the commencement address during both ceremonies via a pre-recorded message.
This year's ceremony looked different due to COVID-19; in order to accommodate two guests for each graduate in the campus gymnasium, the graduates were divided into two ceremonies at 10 a.m. and 3 p.m. Graduates, faculty, staff and guests were all masked and sat at least six feet apart. The ceremony was pared down to allow for a faster rhythm and lower density, and a recording of the Alma Mater played at the end instead of the crowd singing it together.
But for Penn State Mont Alto Chancellor Francis K. Achampong, it was an exceptionally bright day after a very long 14 months. "Seeing the excitement in the eyes of graduates and guests was a fulfilling end to a very challenging academic year and a satisfying reminder of why we do what we do, "said Achampong.
In his charge to the graduates, Achampong reinforced the value of a Penn State degree and asked the students to do three things: stay in touch, be an engaged citizen and give back to whatever community you find yourself in.
In her remarks, Gapstur shared three life lessons with the graduates: expect the unexpected and ask, "what if," balance your head and your heart and remember who you are.
"Opportunity is born of challenge," she shared, while recounting how the WellSpan Health had to pivot and respond quickly to the personal protection equipment (PPE) shortage that developed early in the response to COVID-19. "The world needs you to ask, 'what if?' To be difference makers, leaders, innovators and creators."
In her second lesson, she talked about the importance of compassion and empathy in leadership, urging them to understand and bridge different perspectives. "Balance your head and your heart," she said. "This combination will serve you well."
Lastly, Gapstur advised the students to remember who they are, and to stay grounded and show humility by staying true to their values, treating others with respect and helping others grow in their journeys. "There's only one of you – make the most of you."
Both ceremonies were livestreamed and recordings of each can viewed on the campus' YouTube channel.
Gapstur assumed the role of president and CEO of WellSpan Health in January 2019. She has over 25 years of health care leadership experience working in group practice, academic and integrated health care systems. Prior to her appointment at WellSpan, Gapstur was a senior vice president and president within the HealthPartners system in Bloomington, Minnesota.
Gapstur obtained her bachelor's degree from the College of St. Catherine in St. Paul, Minnesota, and her master's degree and doctorate from the University of Minnesota.
In 2020, she was named a "Game Changer" in the category of most admired nonprofit CEO by the Central Penn. Business Journal. In 2014, she was named a "Top 35 Women in Healthcare Leader" by Minnesota Women's Health Leadership Trust.
Gapstur has participated as a member and president of nonprofit boards, including the Greater Twin Cities United Way, Minnesota Chapter of the National Hemophilia Foundation and the Minnesota Organization of Leaders in Nursing.