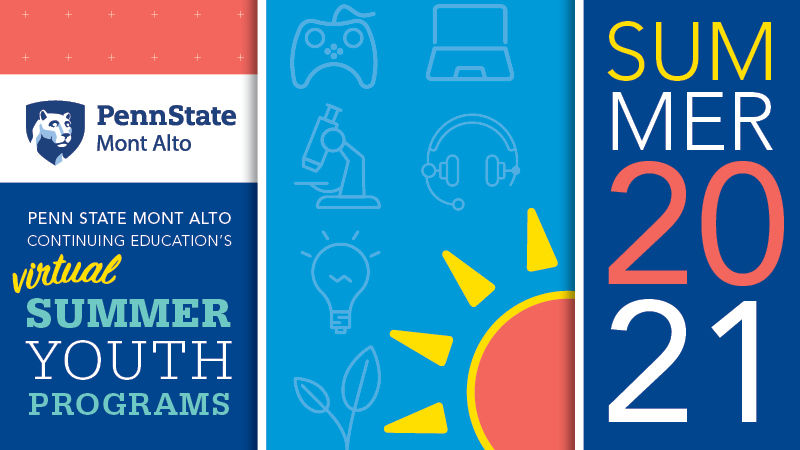 MONT ALTO, Pa. - Local students can build brain power while having fun with Penn State Mont Alto's virtual summer youth programming.
From June 28 to Aug. 6, students ages 8 through 17 can choose from myriad of online offerings in STEM and entrepreneurship. Some are one-time, one-hour workshops, while others meet for at least 60 minutes a day over the course of a week. Those who have an interest in programming, coding or robots can gather for one hour, once a week, over four weeks in virtual camps being provided through a partnership with Penn State Extension's 4-H program.
"We think they're going to be fun and interesting and educational," said Helen McGarry, director of Continuing Education at Penn State Mont Alto.
In February and March, when her department began planning the summer options, Penn State was still following strict protocols to prevent the spread of COVID-19, and a choice had to be made regarding in-person or virtual summer camps.

"We chose virtual format knowing it was a safer bet for our STEM and entrepreneurship programs," McGarry said.
She acknowledged that some youths, after doing most or all of their schooling online all year, might not want to do anything virtual all summer. The same is true of the faculty.
"We have faculty who are enthusiastic about engaging with youth over the summer months," McGarry said. The educators wanted to bring engaging brain food to young people who have a hunger for expanding their minds.
Organizers and faculty put their creativity to the test, stepping out of the typical confines of their subject matter. For instance, the math department ventured into cryptography for a camp geared to those ages 10 to 14, and the physics faculty will guide boys and girls ages 11 to 15 on a journey to space.
With the help of Google Earth, the forestry department is presenting "Explore Your World from Anywhere" for those ages 11 to 15 with an interest in exotic wildlife, ancient civilizations, or people in far-away countries.
Students ages 15 and older can nurture their entrepreneurial spirits with camps focused on personal branding and/or using entrepreneurial skills to design and/or innovate by solving problems for consumers and creating new ideas.
The Mont Alto campus also collaborated with other Penn State campuses to increase the camp opportunities available to our region.
"That's been a silver lining in the cloud that is COVID," said McGarry. "By working with other campuses, the University is able to offer more programming."
In addition to the virtual STEM and entrepreneurship programs, local youth athletes can also participate in in-person soccer and volleyball on campus this summer offered by Penn State Mont Alto Athletics. For details about STEM and entrepreneurial camps, go to https://montalto.psu.edu/ce.
Information about athletics summer camps is available on the athletics website.