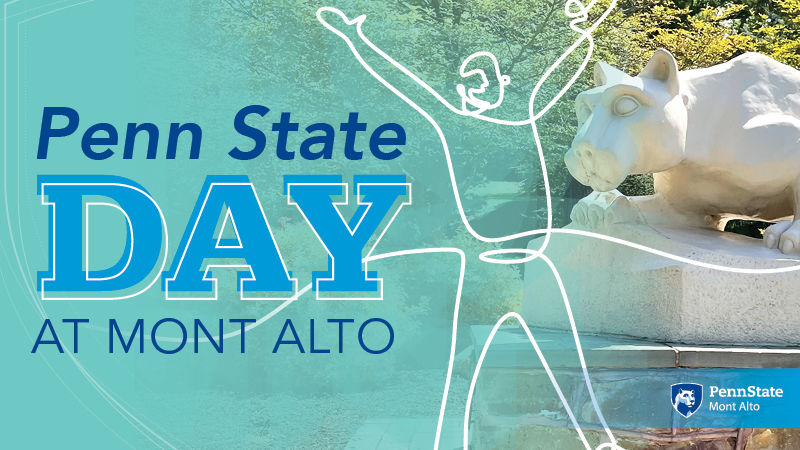 MONT ALTO, Pa. — Penn State Mont Alto is gearing up for a day aimed to show prospective students and families how it provides a small-campus experience while giving students access to the resources of Pennsylvania's only land-grant university.
Mont Alto's Penn State Day is from 9 a.m. to 12:30 p.m., Saturday, Sept. 25. Attendees will be welcomed by Chancellor Francis K. Achampong and the Mont Alto Lion Ambassadors — student workers who support the Admissions team — then hear a presentation about the admissions and financial aid processes.
From 10 a.m. to noon, guests may explore the campus on their own, meeting faculty, staff and administrators along the way, and meandering through classrooms and labs. Current students will be in the Wiestling Student Center, ready to share details about the academic and social aspects of college life.
Lunch will be provided from 11 a.m. to 12:30 p.m. at The Mill Cafe for people to enjoy inside the dining area or outside.
All individuals — vaccinated or unvaccinated against COVID-19 — are required to wear a mask inside all Penn State Mont Alto buildings. The most up-to-date information on the University's continued response to the pandemic can be found on virusinfo.psu.edu.
The coronavirus pandemic forced all Mont Alto tours to be virtual last year, so Shawn Wiley, director of enrollment management, is particularly enthused to welcome prospective students to the campus in person. While videos can show many elements of the college experience, "it's not the same connection" as being able to talk to students, faculty and staff face-to-face, he said.
The event typically draws primarily high school seniors, but also "early shoppers" — high school juniors — and students considering transferring to Mont Alto in the spring of this academic year or fall of the next, Wiley said.
"The main goal is to see what Penn State Mont Alto offers and to educate families that there is Penn State right here," Wiley said. "We have everything you need."
Those who can't attend Penn State Day have the option to participate in presentations and tours on Mondays and Fridays starting Aug. 30, as well as virtual sessions every other Wednesday, starting Sept. 8.
To register for Penn State Day or schedule a campus visit, go to admissions.psu.edu/experience/resources/ma, call 717-749-6130 or email [email protected].