Advanced registration required; virtual opportunities provided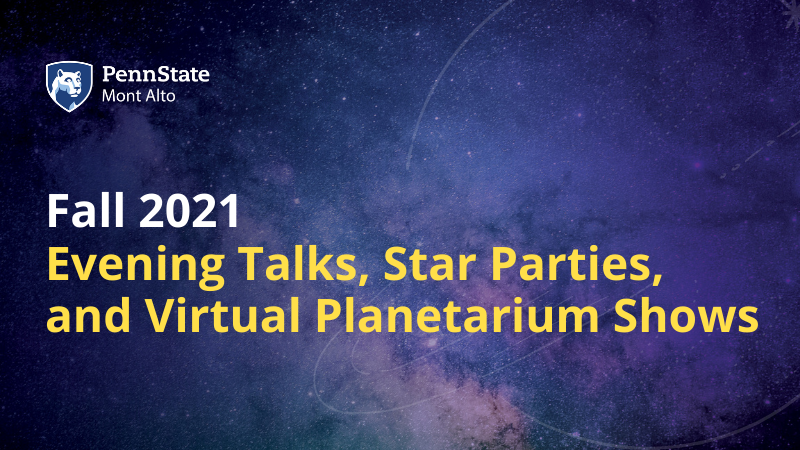 MONT ALTO, Pa. — During Penn State Mont Alto's 2021 fall Evening Talk Series, three faculty members will talk with campus and local community members about their personal interests and experiences.  The talks will be offered both in person and via Zoom.
— 7:30 p.m., Wednesday, Sept. 29: "Into the thick of it: Reclaiming the great outdoors for ALL," presented by Barrett Scroggs, assistant professor of human development and family studies.
Do you need to have all the most expensive gear to try camping? Do you have to look a certain way to go hiking? If you bring a fan, does that make it "glamping?" Come hear about how to reclaim nature for yourself, how there is no right way to enjoy the outdoors, and how to plan your next great adventure in the wilderness. Scroggs will share his own journey of rediscovering his love for the outdoors and offer advice for easy and inexpensive ways to camp and hike around Pennsylvania.
— 7:30 p.m., Wednesday, Oct. 13: "Geoengineering and Climate Change" presented by Jacob Moore, associate professor of engineering.
Geoengineering is the manipulation of the Earth as a system, usually with the aim of controlling the climate. As climate change progresses, geoengineering may become a necessary element of addressing this challenge. Moore will discuss some of the proposed geoengineering processes as well as the challenges to their implementation.
— 7:30 p.m., Thursday, Nov. 18: "Rapid Anxiety Reduction Tools" presented by Anne Devney, assistant teaching professor in nursing.
This session will explore mindfulness strategies useful for anyone (including faculty and students) to overcome anxiety just before any expected stressful situation, such as in labs or exams. Participants will have the opportunity to experience some techniques to use if you have up to three minutes deal with stress. Using a mindfulness approach is cost free, yet it can yield many positive results.
Star Party after each presentation
Weather permitting, Kim Herrmann, associate professor of physics and astronomy, will lead a Star Party after each presentation in the field between Orchard Road and the General Studies Building parking lot from 8:45 to 10 p.m. Telescope viewing and night sky tours with green laser pointers will be part of the star party activities.
Multiple telescopes should be available, courtesy of the TriState Astronomers, a local amateur astronomy club. In the event of cold weather, patrons should wear layers of clothing and bring jackets, hats and gloves. Precipitation or cloud cover may cause the star party to be canceled.
Advanced registration required
Evening talks and Star Parties are free and open to the public and advanced registration for both is required. Additionally, limited local participants can attend evening talks in person at the General Studies Auditorium. Masking is required indoors at all Penn State campuses regardless of vaccination status.
To register to attend one or more of the Evening Talks in person, please complete this form.
To register to attend one more of the star parties, please complete this form.
Local and campus community members interested in attending the Evening Talks virtually or in attending the virtual planetarium shows can register for the Zoom link below.
Virtual planetarium events
In addition to the Star Parties, Herrmann is also offering three virtual planetarium events via Zoom this fall. The events are free and open to the public and participants should register in advance to attend.
Fall 2021 virtual planetarium registration links: