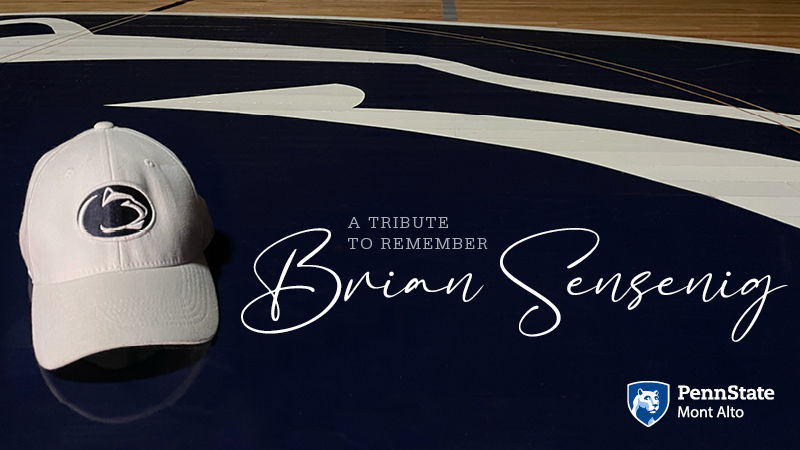 MONT ALTO, Pa. - The Penn State Mont Alto men's and women's basketball teams will honor the memory of Mont Alto communications instructor Brian Sensenig on Dec. 11.
Sensenig, who taught at the Mont Alto campus for 16 years, was a longtime volunteer announcer and statistician for the basketball teams. He died Aug. 26, 2021, at the age of 52.
"Brian always cared a lot about Mont Alto," said Jack Schenzel, coach of the men's basketball squad. "You could tell he had a special love for basketball. He just offered so much to us."
That passion made its way into his classroom. Sensenig regularly hosted a poster contest among his communications students, for which they created signs to inspire the basketball teams. They were displayed throughout the gym so fans could vote for their favorites.
"It gave a connection between the (other) students and the basketball players at Mont Alto," Schenzel said. "He made it a lot of fun."
The coach appreciated that a faculty member donated his time to the basketball program and embraced the progression from keeping statistics with pencil and paper to logging them in a digital database.
"He never got paid for anything he did there (at the games)," Schenzel said.
In recognition of Sensenig's support, a tribute will take place between the 1 p.m. women's game and the 3 p.m. men's game. Both teams will take center court for remarks from Schenzel and Penn State Mont Alto Chancellor Francis K. Achampong, followed by a moment of silence.
"It's not easy," Schenzel said of talking in front of a crowd about Sensenig's legacy. "It's certainly an emotional period."
Schenzel paid similar homage to longtime Penn State Mont Alto Director of Athletics Robert "Marty" Ogle, who died March 29, 2019, at the age of 66.
"It's always tough to try to give them the proper respect that they deserve," Schenzel said.
Those who come to the games on Dec. 11 are asked to wear baseball caps to celebrate Sensenig, who was known to sport them wherever he went. 
Donations will be accepted in Sensenig's honor for the V Foundation for Cancer Research, which was founded by ESPN and legendary basketball coach Jim Valvano.
For more information about the basketball teams at Penn State Mont Alto, go to www.psumontaltoathletics.com.
"Brian always cared a lot about Mont Alto," said Jack Schenzel, coach of the men's basketball squad. "You could tell he had a special love for basketball. He just offered so much to us."

—Jack Schenzel , Penn State Mont Alto Men's Basketball Coach