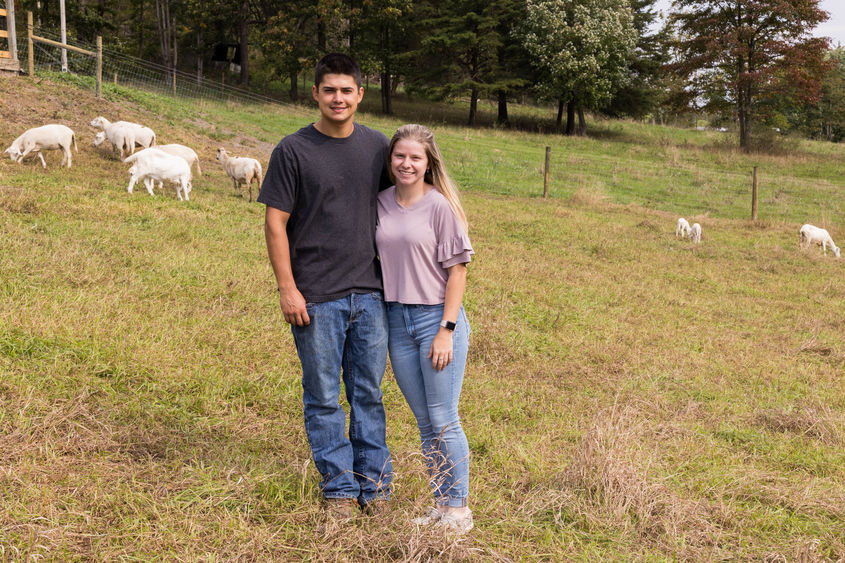 UNIVERSITY PARK, Pa. — Two Penn State students this fall were among 15 young, beginning and small-scale Pennsylvania farmers who received $10,000 AgChoice Farm Credit Jumpstart Grants.
Mikara Anderson, of Hustontown, and Jake Grim, of Biglerville, will use the funding to develop their farm-related businesses.
Anderson, a senior in the College of Agricultural Sciences majoring in animal science with a focus in business and management, has a deep-rooted involvement in livestock management and care. "As a kid, I took care of animals whose lives depended on me," she said. "I became passionate about raising livestock partially because it was such a big part of my everyday routine."
Anderson has her own group of sheep among her family's flock. That changed, however, when her family's barn burned down last April. "It was a rebuilding time," Anderson said. "And, after selling the sheep, my boyfriend and I decided that we were going to purchase a farm."
Anderson and her boyfriend, Riley Price, bought a 30-acre property from Anderson's grandfather at the beginning of August. After fixing the property, they purchased one ram and 15 Katahdin ewes. Anderson and Riley plan to use the grant funds to cover the cost of fencing materials, installation and the ewes.
In the future, Anderson said she and Price hope to raise 50 to 100 sheep a year and expand their operation onto neighboring property if it becomes available for sale. In running the farm, Anderson has gained a new appreciation for the breadth and depth of her coursework in the College of Agricultural Sciences.
"My classes have proved useful," she said. "For example, next semester, I'll be taking a sheep production class that will help me learn the most efficient, correct ways that I can bring back to the farm to manage sheep."
Anderson also cited the benefits of her diversified degree, including classes on meat production, poultry science, business management and many other topics.
"In the future, we might decide to get into another field of the agricultural industry, and, thanks to my degree, I will have a baseline knowledge and level of experience that will make me feel comfortable either working in that field or introducing it to the farm," she said.
Grim is a senior majoring in business at Penn State Mont Alto and the founder of Table Rock Markets, an online platform that connects consumers with local farmers.
Grim first conceived of Table Rock Markets when helping a local farmer update online inventory, an experience that gave him a firsthand look at the appeal of an online platform.
"The customers loved it," Grim said. "And, honestly, who wouldn't love hopping on the computer to order high-quality produce that you can pick up at the local farmers market?"
Soon after, Grim started Table Rock Markets with co-founder Hunter Dubbs, a graduate of Biglerville High School and the Pennsylvania College of Technology. They were joined by Aidan Rauscher, a Big Spring graduate studying computer science at Penn State.
"My thought was that an online marketplace would make it a lot easier for farmers to sell products online," Grim said. "With a marketplace, we could add tremendous value not only for this one farmer but also for any interested farmer."
In the short time that Table Rock Markets has been online, it has processed more than 3,000 orders. "Produce travels, on average, 1,500 miles from farm to table," Grim said. "Our goal is to keep products within a 100-mile radius. And by doing that, we estimate that we've helped to prevent the emission of more than 115 metric tons of carbon dioxide since our launch."
Additionally, Grim added, Table Rock Markets has had positive economic and social effects.
"A lot of small family farms are going out of business right now," he said. "With this platform, we are helping those farmers become more profitable and more sustainable and giving them a better chance to stay afloat. Socially, Table Rock Markets builds relationships between producers and consumers so that a consumer returns to the same producer because they value the producer's goods. In turn, the community keeps its revenue local."
With the AgChoice Farm Credit grant funds, Table Rock Markets plans to develop a mobile app, perform more outreach and marketing, and enhance its customer support.
Grim emphasized the aid that Table Rock Markets has received from the Penn State community. "We have been given access to extensive ag science, computer science and business resources to develop our business model," he said. "We wouldn't be where we are today if it weren't for the outstanding people at Penn State."
Anderson agreed. "I think the biggest resource at Penn State is the people," she said. "They want to help you succeed, and they know all of the right people, things and tools to get you there."