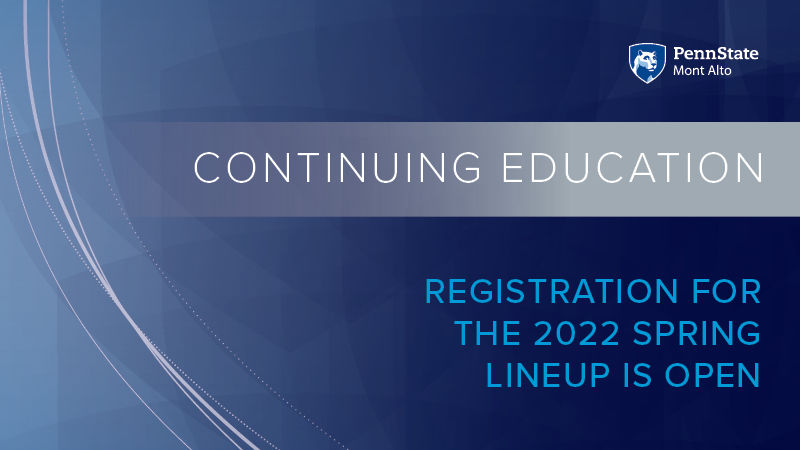 MONT ALTO, Pa. - Registration for spring 2022 Continuing Education courses at Penn State Mont Alto is open for those who are ready to expand their role in the workforce, hone a skill or start a new career. 
New courses include Spanish for the Medical Professional and Spanish in the Workplace, as well as bookkeeping. They were added based on input from area employers, said Helen McGarry, director of Continuing Education at Penn State Mont Alto.
"One of the needs identified in our area was Spanish to address the language gap," McGarry said. That was particularly true in health care and by supervisors who don't speak Spanish, but whose employees do. 
Among the 16 offerings are industry-standard certifications in supply chain management, project management and human resources management, which McGarry said are foundational to the Continuing Education program. Returning, too, are nursing home, assisted living and personal-care home administration courses, which, like the other classes, will be delivered via Zoom. 
Certificates in logistics, transportation and distribution, as well as leadership, are available this spring, along with real estate courses. Some programs last a few weeks, while others cover a whole semester. They typically meet via Zoom for a couple of hours once or twice a week. 
"With the pandemic, it's just practical," McGarry said.
Mont Alto's Continuing Education options help position the campus as a leader in Franklin County, Pennsylvania, for professional development. Among the reasons for its dominance are access to high-caliber instructors from the more than 20 campuses in the Penn State system, who can offer programs in niche areas. 
"We engage instructors who sometimes are from the industry," McGarry said, as well as Penn State faculty and adjunct faculty, some of whom work in realms outside of education and bring that experience to their courses. "We like having industry folks teach our classes because they're teaching students in the industry. We do put a lot of effort into selecting instructors."
McGarry said the Continuing Education departments at all the Penn State campuses have their own suite of courses, which they readily share with each other. For instance, the Workforce and Career Development Certificate Program is being shared across multiple Penn State campuses. 
The use of Zoom also saves people from having to pay travel, food and lodging costs to attend courses at other sites. 
McGarry said instructors also can teach courses at workplaces to suit area employers' needs and schedules.
When people feel like it's time to pursue certification or licensure, Penn State Mont Alto is a top option. 
"Because we have both noncredit and credit certificates, licenses and degrees, it provides different pathways for people," McGarry said.
Whether students don't have a degree, but want one; have an associate degree and are seeking a bachelor's; or started a bachelor's program, but had to stop to enter the workforce, "we can help them," McGarry said
To register for continuing education courses, go to https://montalto.psu.edu/ce. 
For more information, contact McGarry at [email protected] or 717-749-4118.