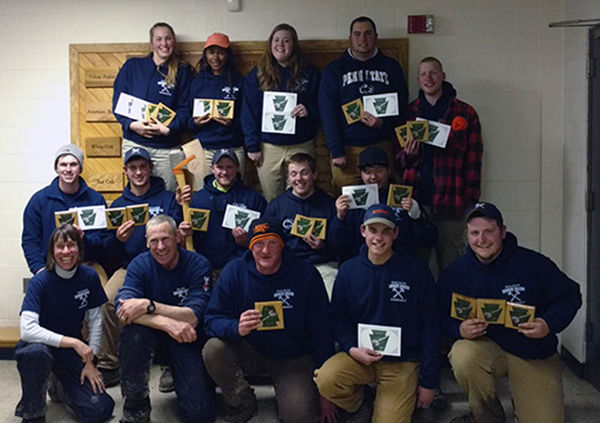 The Penn State Mont Alto Woodsmen's Team took second among five other institutions during the Mid-Atlantic Intercollegiate Spring Woodsmen's Meet on April 9. The competition was part of a Timber Fest Industry showcase held at Pennsylvania College of Technology's Schneebeli Earth Science Center near Allenwood, Pennsylvania.

"The participants represented Mont Alto well," according to Beth Brantley, instructor in forestry and Woodsmen Team adviser.

There were several first-place finishes, including: Kimberly Cunningham, women's arboriculture rope skills and women's pole climb; Austin Grove, men's arboriculture rope skills; Dave Riley, men's axe throw, and Brody Hetrick and Brooke Killmon, Jack and Jill crosscut.

Other Mont Alto Woodsmen members competing were Chad Gingrich, Josh Hersl, Reagan Klinedinst, Mark Legutko, Dominic Lenzi, Cameron Murphy, Chris Payne, Dakota Pine, Seth Re, and Junho "Bob" Yang.

Throughout the day, participants competed in 16 event categories, including archery, ax throw, crosscut saw, log roll, pulp toss, pole fell, chain saw, water boil and speed chop. In addition to the host, Pennsylvania College of Technology, the other schools were Allegany College of Maryland, Montgomery Community College and Haywood Community College in North Carolina, and Dabney S. Lancaster Community College in Virginia.