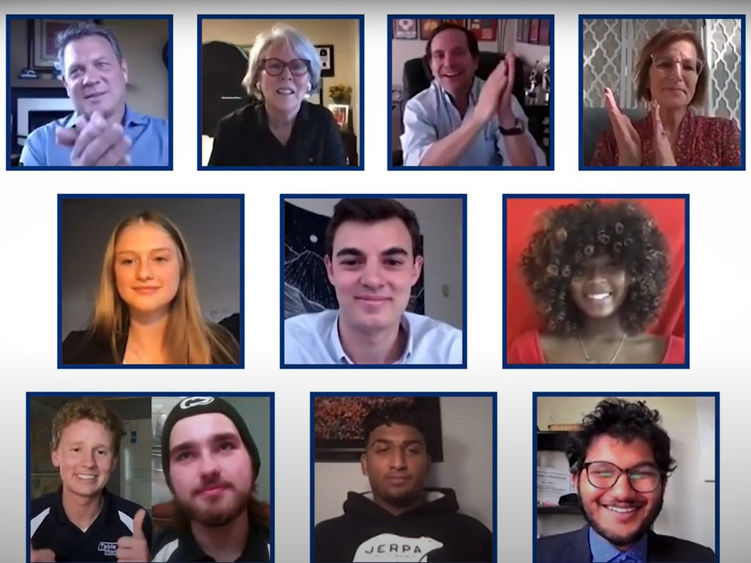 Six Penn State student startup teams have been selected as finalists in the Invent Penn State Inc.U Competition and are set to compete for $30,000 in funding on "The Investment," a WPSU Shark Tank-like television production that will be livestreamed during Penn State Startup Week powered by PNC.
Teams include students from across four different Penn State campuses. Below are this year's finalists:
The Ballet Scout is a subscription database for dancers to find auditions, training programs, and jobs based on their budget, housing needs, location, style, and dates available. The startup founders are Robert Fulton, a Penn State World Campus student studying business, management, marketing, and related support services, and Eugene Ryoo, a fourth-year student studying cybersecurity analytics and operations at University Park.
CarToCamp designs, manufactures, and sells a universally fitting sleeping-platform product and storage system for car camping. The startup founders are Nathan Bonslaver, a senior studying mechanical engineering at Penn State Berks, and Kevin Gulick, a 2020 Penn State Berks alumnus.
Ithaka aims to reinvent the future of the landscaping industry by using artificial intelligence to increase the accuracy of estimates and timelines and virtual reality to speed along the design process and increase customer satisfaction. The startup founders are Joseph Duncan, co-founder and fourth-year student studying industrial engineering at University Park, and Zion Taber, co-founder
MarRosa's Old World Cuisine offers marinara sauce, vodka sauce, and tomato basil sauce all made with imported Italian tomatoes. The startup founder is Marcella Marino, a senior studying corporate innovation and entrepreneurship and international business at University Park.
ShambaTek provides electricity to Kenyan farmers to enable them to increase their business potential. The startup founders are Monem Rizvi, a second-year student studying finance at University Park, and Aidan Olszewski, a third-year student studying biomedical engineering at University Park.
Table Rock Markets is an automated e-commerce platform designed for farmers, helping keep small farms in business by increasing their sales and profitability by leveraging resources in the digital world while also helping families eat healthy, locally grown food. The founders are Jake Grim, a senior studying business management and marketing at Penn State Mont Alto, and Aidan Rauscher, a junior studying computer science at University Park.
"We had a tremendous group of student companies apply to the Inc.U Competition this year," Inc.U Competition Program Coordinator Derek Gross said. "The selected finalists showcase great ideas and technology, and we look forward to watching them present their startups on the filming of 'The Investment' during Penn State Startup Week."
In preparation for the April 9 filming, finalists will work with experienced coaches from the Invent Penn State entrepreneurial ecosystem. Coaches will guide teams on delivering successful pitches and prepare them for questions they may face from "The Investment" judges. Finalists will also receive one-on-one mentorship on how to advance their businesses.
In addition to pitch coaching, finalists will connect with the Entrepreneur Assistance Law Clinic to help them establish LLCs and the Intellectual Property Law Clinic for patent and intellectual property assistance.
After competing in the Inc.U Competition during Penn State Startup Week, these six teams will be honored and present their startup to investors from across the country at the Invent Penn State Venture & IP Conference, April 28-29, during its Student Startup Showcase.
Since the Inc.U Competition officially launched in 2015, it has produced 13 winning teams and provided $150,000 in prize money to fund winning student startups. In 2021, three student startups each won $10,000 in funding.
To view more Penn State affiliated startups, visit the Startup Navigator. To find more student entrepreneur resources, visit the Resource Navigator.
About Inc.U Competition
Inc.U began in 2015 as a pilot program funded by a grant from the Pennsylvania Department of Community and Economic Development. It was originally a collaborative effort between the University of Pittsburgh at Johnstown, Bucknell University, and Penn State to foster undergraduate entrepreneurship. From 2016-20, the Inc.U Competition was managed by PennTAP and evolved to become a Penn State program offered in partnership with Invent Penn State and the LaunchBox & Innovation Network. Beginning in spring 2022, the Inc.U Competition will be a featured competition as part of Penn State Startup Week, with "The Investment" production livestream scheduled for April 9.