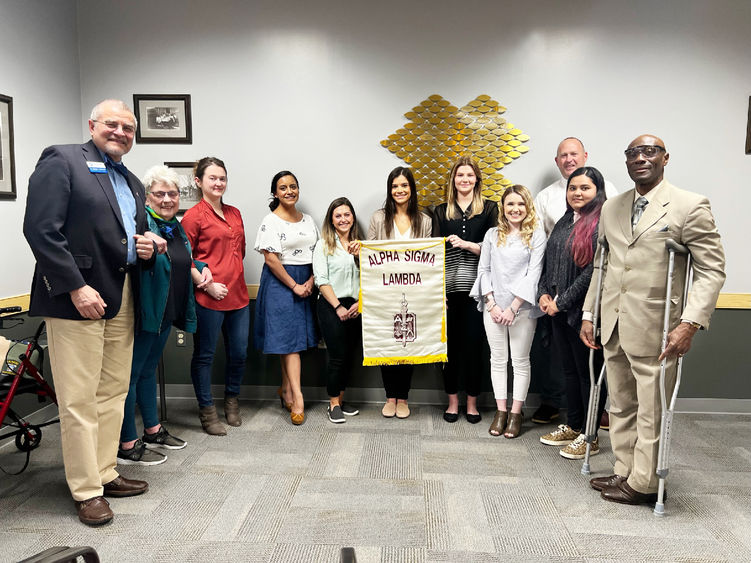 Eight Penn State Mont Alto adult-learners were inducted into the Zeta Pi Chapter of Alpha Sigma Lambda, the nation's oldest and largest honor society for nontraditional students, on Monday, April 11.  
The ceremony, which was held in person on the Mont Alto campus for the first time since 2020, was emceed by Bradley Kendall, Penn State Mont Alto supervisor of maintenance and operations and Alpha Sigma Lambda member, and Alice Royer, Penn State Mont Alto assistant teaching professor of English and women's studies.  
In his welcome remarks, Penn State Mont Alto Chancellor Francis K. Achampong congratulated the 2022 inductees on their accomplishments. "It is important for us to have a celebration just for all of you that recognizes your achievements," Achampong said. "Adult learners have lots of demands on their time, and all of you are juggling those demands and still excelling academically. I encourage you to keep pressing on 'til the finish line, and congratulations on doing so well."
Alpha Sigma Lambda, whose Greek letters stand for the society's motto "First in scholarship and leadership," was founded in 1946 by Rollin Posey, dean of the University College at Northwestern University, in part to honor individuals continuing their academic pursuits following World War II. The Mont Alto chapter was approved in 2001 and has inducted 427 students since its inaugural class.
To qualify for membership, students must have completed 30 Penn State credits, maintain a 3.20 GPA and be at least 23 years old.
This year's inductees are:
Sonia Holter
Amanda Negley
Erica A. Paylor
Taylor N. Peachey
Ashly Perez
Megan Shockey
Joshua Souders
Katie Elizabeth Spinder