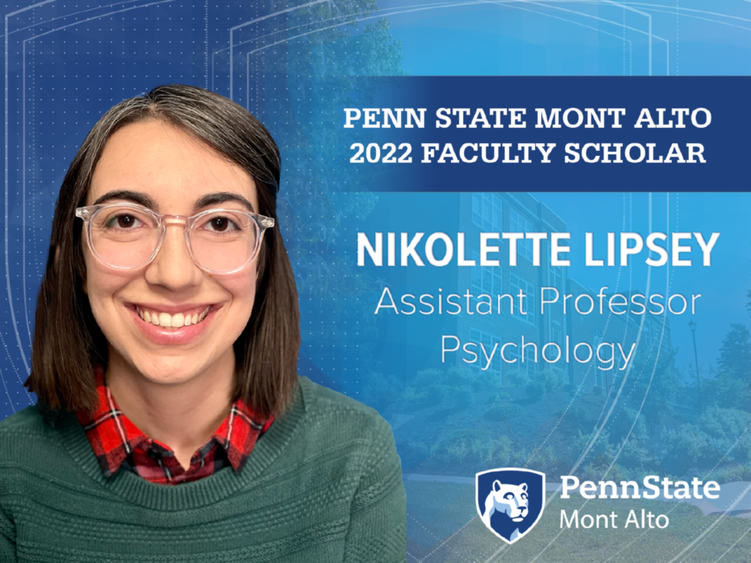 Being named the 2022 Mont Alto Faculty Scholar gave Penn State Mont Alto's Nikolette Lipsey a sense that her research made an impact.
"It felt like a real moment of validation," said Lipsey, adding that the honor reinforced the sense of belonging she has had since becoming an assistant professor of psychology in the fall of 2021.
When research is published, the authors don't always get to see the effect their work has on others, so being recognized by the faculty and academic affairs leadership at the Penn State Mont Alto campus gave Lipsey a glimpse at how her work matters.
But the honor was still a surprise.
"I was pretty floored, I'll be honest," said Lipsey, who received the award at the May 7 commencement.
Michael Doncheski, chief academic officer at Penn State Mont Alto, was among those reviewing the applications. He said a significant number of published scholarly writings and presentations are key factors in determining who is named the faculty scholar, and Lipsey's dedication to research and writing made her application stand out.
In 2021, she published six articles in refereed journals and two chapters in scholarly books. She is particularly interested in social influences on how people think, feel and behave when it comes to their health.
Lipsey is one of a few first-year professors at Penn State Mont Alto to be named faculty scholars. Doncheski said the energy and enthusiasm educators have for their research and teaching are among the reasons they were hired.
"It's their own drive to be successful," said Doncheski, the 2000 faculty scholar. "They find their topics of interest and they really go at them."
Lipsey earned a bachelor's in psychology and Asian studies from Furman University in South Carolina and master's and doctoral degrees in social psychology from the University of Florida, followed by two years of post-graduate work at North Carolina State University.
As a researcher, she has explored how people make decisions about potentially threatening information and how they factor others into those decisions. Among her most recent writings were two collaborative articles published in The Journal of Sex Research. One probed the elements of internal consent and affirmative external consent on young adults' feelings of sexual satisfaction, while the other examined the connection between sexual health and making decisions based on preventing negative consequences or achieving pleasure.
An article she co-wrote in Current Psychology delved into mindsets that are closely related to entrepreneurship.
Lipsey thinks of research as a way to get answers to important questions, but with delayed gratification. Reflecting on her first year of teaching, she appreciated that the rewards are more immediate.
"You get to see students get excited about the concepts," she said.