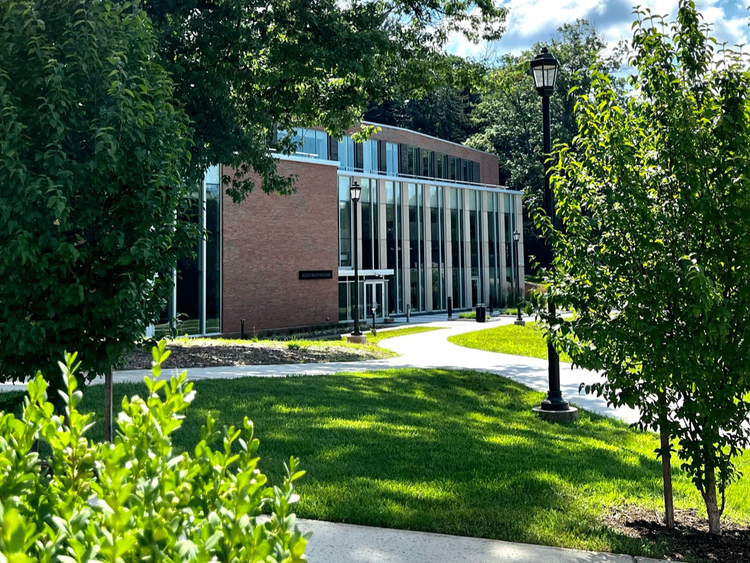 MONT ALTO, Pa. — WellSpan Health has committed $1.018 million to Penn State Mont Alto to support two full-time nursing faculty member positions. The gift establishes the WellSpan Health Instructor of Nursing Support Fund, and the faculty positions will be named WellSpan Health Instructor of Nursing in the Ross and Carol Nese College of Nursing at Penn State. 
The gift, which will fund the faculty positions for a five-year period, is a continuation of the company's financial support for nursing faculty at the Mont Alto campus that started in 2001 with the funding of one nursing faculty position. In 2005, WellSpan increased its support to two faculty member positions to accommodate growth within the program.
"WellSpan has been a longtime supporter of the nursing program at Penn State Mont Alto because it serves an important role in creating compassionate and skilled nurses, occupational therapists and physical therapists who will care for patients in our region," said WellSpan President and CEO Roxanna Gapstur. "We are proud to partner with the Mont Alto campus to develop professionals who are prepared for the modern challenges of health care."
Since 2005, nursing salaries and benefits have increased by more than 50 percent, and WellSpan's new commitment covers the true cost of both named faculty positions, allowing the campus to invest its funds into technology and other resources that enhance the learning experience for its nursing students in the campus' new 22,000-square-foot Allied Health Building, a shared modern learning hub for the campus' nursing, occupational therapy assistant and physical therapist assistant programs. 
"WellSpan's gift is the largest single gift commitment made during our recently completed six-year campaign, 'A Greater Penn State for 21st Century Excellence,'" said Penn State Mont Alto Chancellor Francis K. Achampong. "It is a testament to Dr. Roxanna Gapstur's vision for healthcare in our region and her support of high-quality nursing education as an integral part of that vision. I look forward to many more years of collaboration between WellSpan and Penn State Mont Alto."
The faculty support also ensures that the Mont Alto campus has enough nursing faculty to help support the demand for nursing education in Franklin County. A recent report published by the American Association of Colleges of Nursing reported that U.S. nursing programs turned away 80,000 qualified students in 2019 due to nursing faculty shortages, contributing to an already existing nationwide shortage of nursing professionals. The new gift will allow the Mont Alto campus to increase its nursing enrollment for the 2022-23 academic year. 
With a significant percentage of U.S. nurses expected to retire by 2030 — with some projections as high as 1 million nurses retiring — and an aging U.S. population, the demand for nurses is critical. The recent COVID-19 pandemic is exacerbating the shortage. According to a recent McKinsey report, 22% of nurses surveyed in 2022 indicated they were considering leaving the profession with many citing the pandemic as a leading cause of their decision to leave.
WellSpan's investment in nursing education represents their commitment to developing highly educated and skilled nurses, many of whom are from and will find employment in south-central Pennsylvania.
"The Penn State Mont Alto program is a critical pipeline for educating and training skilled health care professionals who will serve our communities in the years to come," Gapstur said. "We appreciate Mont Alto's work to develop their students' heads and hearts through high-tech, hands-on learning opportunities – and we look forward to our continuing partnership with them."
For more information on nursing at Penn State Mont Alto, visit montalto.psu.edu. 
With the record-breaking success of "A Greater Penn State for 21st Century Excellence," which raised $2.2 billion from 2016 to 2022, philanthropy is helping to sustain the University's tradition of education, research and service to communities across the Commonwealth and around the globe. Scholarships enable our institution to open doors and welcome students from every background, support for transformative experiences allows our students and faculty to fulfill their vast potential for leadership, and gifts toward discovery and excellence help us to serve and impact the world we share. To learn more about the impact of giving and the continuing need for support, please visit raise.psu.edu. 
 
"WellSpan has been a longtime supporter of the nursing program at Penn State Mont Alto because it serves an important role in creating compassionate and skilled nurses, occupational therapists and physical therapists who will care for patients in our region," said WellSpan President and CEO Roxanna Gapstur. "We are proud to partner with the Mont Alto campus to develop professionals who are prepared for the modern challenges of health care."