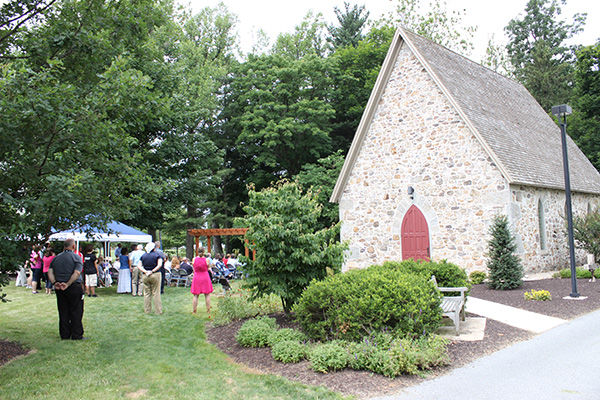 MONT ALTO, Pa. — On July 8, more than 60 colleagues, friends and family members gathered on the Penn State Mont Alto campus to formally dedicate the Debra K. Creager Memorial Garden that sits adjacent to the historic Emmanuel Chapel. The garden will memorialize the 17-year campus employee and beloved friend to many Penn Staters.

The garden planning and group fundraising effort began shortly after Creager's passing on April 11, 2016. Since that time, more than 70 alumni, friends and family have contributed nearly $17,000 to construct a beautiful garden that includes a 6-foot park bench, stone pavers and a 12-foot cedar wood pergola. The garden was constructed at Creager's favorite campus location, the Emmanuel Chapel.

Creager worked in Mont Alto's Development Office as development assistant and later as its campus stewardship officer. She had regular contact with Penn State alumni and supporters from across the country.

"Debra established a culture of customer service in our development office that was noticed by every employee, alumnus and donor she came in contact with," said Randall Ackerman, director of campus development.

"Debra's primary contribution to our campus fundraising efforts was through the relationships she made and sustained with Mont Alto supporters living all across the country," he said. "A good example of this is that gifts for this project came from people living in 10 different states."

Sharing additional thoughts during the dedication was 1989 Penn State graduate Ellen Palmer, volunteer chair of Mont Alto's Campaign Committee.

"As this beautiful garden suggests, Debra was a kind, serene and gentle woman. But do not be fooled, for as the strength that her garden's pergola suggests, she was also a strong, dedicated and committed woman to this campus, to her position and always to the people around her," said Palmer.

Additional gifts to honor Debra Creager are welcomed and can be made to the Emmanuel Chapel Preservation Endowment, a fund she passionately helped create. Checks should be made payable to "Penn State" and mailed to the Development Office, c/o Penn State Mont Alto, One Campus Drive, Mont Alto, PA 17237. For more information, contact the Mont Alto Development Office at 717-749-6105.