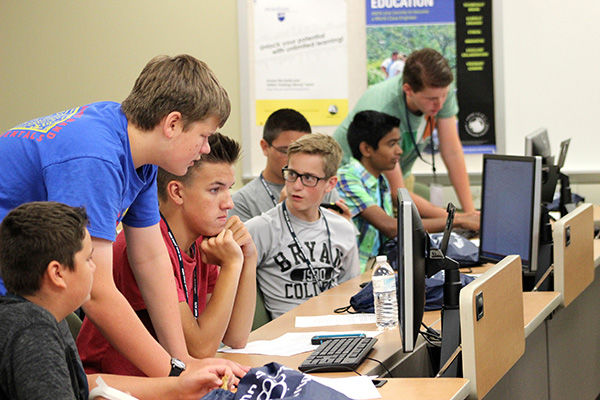 MONT ALTO, Pa. — What began as Penn State Mont Alto's response to a request from area school districts, turned into an unexpectedly large turnout for Penn State Mont Alto's first STEM Camp.
With some of the finest science, technology, engineering and math faculty around, it only made sense to answer the need for a fun, hands-on STEM Camp, said Director of Continuing Education Helen McGarry.
"The response has been wonderful for our first year. It's amazing how many students signed up for this year's camp. We couldn't be happier," said McGarry.
The University is already planning to build on this year's success to offer more fun and interactive programming next year, she said.
"Our goal has always been to engage the students to get them excited about science, technology, engineering, and math," she said.
Thirty-nine rising ninth- and tenth-graders from 13 school districts in Pennsylvania, Maryland and West Virginia participated in the week-long, day camp which began July 11.
Campers learned how to build a battery using common items, design and building a personal computer, find hidden treasures around Mont Alto's campus using GPS and geocaching, design a gravity defying marble roller coaster, and challenge other teams in a Lego Mindstorms EV3 competition.
"I'm extremely happy that I came to camp," said Patrick Hicks, 14, Mercersburg.
He wants to be an engineer when he gets older, and said this week exposed him to a world of possibilities.
It's been a good camp for him, said Patrick's mother Amy Hicks.
"He comes out of camp everyday excited. Each day has been something different for him to learn," Hicks said.
The $160 camp included daily lunch and snacks.
"I think he's been excited about the things he's been able to try, and I like that he's working in groups so he's learning not only from the instructors, but he's also learning from the other kids," she said.
Assistant Professor of Engineering Jacob Moore guided the students through a Rube Goldberg concept using a marble roller coaster design.
Mixing fun with learning is important, Moore said.
"They are learning here because it feels like play, and if they feel like learning science is fun then they will be more likely to become a scientist or an engineer," he said.
According to the U.S. Department of Commerce, STEM occupations are projected to grow by 17 percent from 2008 to 2018, compared to 9.8 percent growth for non-STEM occupations. STEM workers earn 26 percent more than their non-STEM counterparts.
The STEM campers have been able to learn about STEM in a fun environment with kids who share similar interests, Moore said.
"I'm making a lot of friends. This week has been great," said Margaret Spicka, 14, Shippensburg.
Her favorite activity was building a robot in the Lego Mindstorms EV3 session.
Margaret said she loves STEM, but isn't certain what career path she will pursue.
"But, this week has really exposed me to all kinds of options," she said.