Penn State Mont Alto Founders Convocation officially opens academic year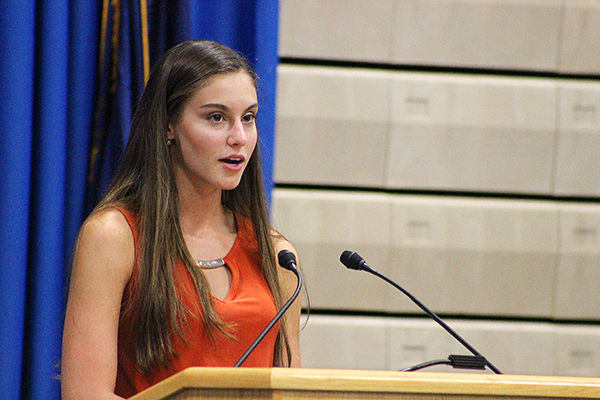 MONT ALTO, Pa. — Traditional pageantry and the colorful flow of faculty members in full academic regalia officially opened Penn State Mont Alto's 2016-17 academic year during the annual Founders Convocation on Aug. 20 in the Multipurpose Activities Center.
Marissa Bubbenmoyer (class of 2015) and Taryn Sloat (class of 2017) opened and closed the ceremony, leading the audience in the national anthem and the alma mater, respectively.
Diane Chamberlin, director of enrollment management, presented the incoming class, which hails from 19 states and three nations.
"You are truly a melting pot of diversity, coming from all lifestyles and family heritages," she said.
Nicole Nygard (class of 2019), Student Government Association president, congratulated the students on their acceptance to Penn State. She urged them to get to know each other, to take advantage of the Academic Support Center, and to engage in activities outside of the classroom. In particular, she encouraged commuter students to stay on campus when not in class and to get involved.
"Put yourself out there and you can accomplish great things," she said.
Chancellor Francis Achampong commended the students on choosing Penn State Mont Alto from among thousands of other colleges and noted the value of a Penn State degree.
"Just this past June, Penn State was named one of the '10 Most Powerful College Networks,' by College Magazine," he said.
"If you are engaged and get 'in gear' and involve yourself, you will have the best chance of earning a Penn State degree that will launch your career."
Having received the 2016 Martha A. Fisher Award for Excellence in Teaching, Ermek Nurkhaidarov, associate professor of mathematics, presented members of the faculty to the incoming class.
Recalling his own college experience, Nurkhaidarov said that while those days were difficult, he still considers them to be the best in his life because "it was a beginning."
"College is not easy," he said, "just keep going and do one step at a time. Look around and see your future friends. … Enjoy your journey together." He then introduced each member of the faculty ― "the people who will help you on your journey to a degree."
Michael Doncheski, chief academic officer, declared the academic year had officially begun. He also mentioned Penn State's Values ― Community, Discovery, Respect, Responsibility, Excellence and Integrity — and asked the students to incorporate them into their own lives.
"With the freedom of the independence that comes with going to college comes great responsibility," he said. "Be Penn State proud but make Penn State proud of you as well."