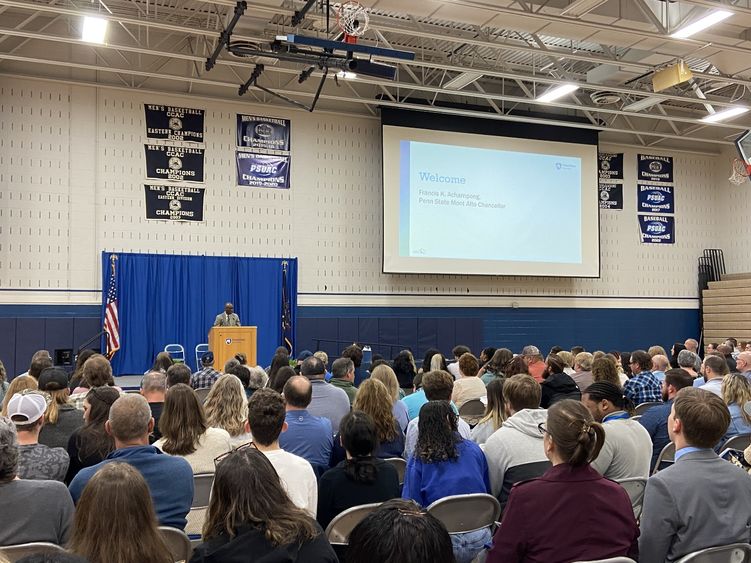 MONT ALTO, Pa. — Penn State Mont Alto honored students and faculty members achieving academic, leadership and teaching excellence during the annual Academic and Leadership Awards Ceremony April 30 in the Multipurpose Activities Center (MAC).
Nearly 100 students were recognized for their academic achievements and campus leadership during the 2022-23 academic year. Three faculty members were also recognized for their contributions to the learning environment at Penn State Mont Alto.
"I cherish this opportunity to recognize our students and faculty for their outstanding academic and leadership achievement. The Academic and Leadership Awards ceremony is one of my favorite campus events," said Jay Arcuri, director of student affairs.
During the awards ceremony, the 2023 My Penn State Makeover recipients were revealed. Each year, students can apply for a makeover, which includes time in the salon and time with shopping coaches who help students create a wardrobe for them as they prepare for their professional endeavors following graduation. This year's makeover featured Danielle Barnhart and Skye Herring. This makeover was sponsored by an anonymous donor with help from other volunteers and sponsors: Crown Beauty and Barber Lounge, Jennifer Selph with Mary Kay, LulaRoe Stacey Rawlings, and Angela Lynch, personal shopping coach and stylist.
Congratulations to all this year's winners. See the full list below.
Academic Achievement in Engineering
Ben Geoffroy
Andrew Masker
Bodie Rouzer
Andrew Sallie
Academic Achievement in Associate of Science in Business
Academic Achievement in Bachelor of Science in Business
Nick Kostyak
Mariah Bingaman
Academic Achievement in Liberal Arts
Academic Achievement in Music
Natalie Hill
Adison Gladfelter
Bodie Rouzer
Excellence in Leadership in Music
AnneMarie Hoyt
Zachery Albright
Excellence in Leadership in Penn State Mont Alto Jazz Ensemble
DUS Academic Excellence
Kyla Hoffner
Kelsey Sanders
Academic Achievement in Multidisciplinary Studies
Grace Banfe
Danielle Barnhart
Lacey Daum
Avery Diehl
Shaylin Myers
Excellence in Science
Aleesha Cramer
Zachary Green
Alexis Hendrickson
Alva Pepper
Agricultural Sciences Academic Achievement
Heather Goldman
Jacey Parkes
Konnor Trimmer
Camryn Yeager
Academic Achievement in Forest Technology
Gabriel Brandt
Karol Jones
Forest Technology Service Award
Seth Laudermilch
Rachel Merrill
Kaleb Slimm
Woodsmen Team
Gabriel Brandt
Justin Nichol
College of Agricultural Sciences Alumni Society Award
Lion Ambassadors – Excellence in Leadership
Lion Ambassadors – Most Dependable
Lion Ambassadors – Rising Star in Leadership
Caleb Cawthern
Avery Diehl
Leland F. Galloway
Paige Himes
Academic Achievement in BS Nursing Program
Maegan Aleshire
Serena Feese
Kylee Gooding
Kathryn Herr
Erica Johnson
MaKenzie Llwellyn
Katelyn Smith
SNAP Service Award
PTA Academic Excellence Award
Casey Hammond
Stephanie Lewis
Audrey Miller
Samantha Williams
Academic Achievement in OTA
Learah Foreman
Delaney Glazer
Brooke Latterner
Cheyenne Proctor
Madison Proctor
Peer Mentor Service Award
Avery Diehl
Vanesa Flores Garcia
Hayley Mellott
Gavin Miller
Trestin Mosima-Hill
Bella Smith
Kayla Webber
Black Student Union
Commuter Student Association                             
Orientation Leaders
Maegan Aleshire
Raylee Gibbons
Taylor Mentzer
Bella Smith
Kayla Webber
Peer Engagement Guides
Zachery Albright
Maegan Aleshire
Danielle Barnhart
Amanda Bingham
Alex Chambers
Avery Diehl
Raylee Gibbons
Hayley Mellott
Gavin Miller
Tyler Paul
Bella Smith
Kayla Webber
Penn State Mont Alto Benefiting THON
Marvel Club
C.A.P. Leadership Award
Student Veterans Association
Outstanding Student Veteran
S. LeMar Best
Justin Nichol
HPA Academic Excellence Award
HPA Difference Maker Award
The HPA Wow! Award
HDFS Baccalaureate Degree Award
Integrative Scholarship Award in HDFS
HDFS/Psychology Club
Jessica Hoover
Madison Snyder
Psychology Achievement
 Game Changers Sports Ministry Club
The Marty Ogle Student Athlete of the Year - Women's Volleyball
The Marty Ogle Student Athlete of the Year - Baseball and Men's Golf
2023 PSUAC John S. Egli Outstanding Female Student Athlete
Cheerleading 2023/Spirit of Leadership Award
Intervarsity Christian Fellowship
Adrienne George
Namho Koo
Resident Assistants
Caroline Blickley
Julia Coulston
Bri Fisher
Khaliese McReynolds
Namira Morell
RaeAnn Parsons
Jacob Schaub
Joseph Williams
Resident Assistant of the Year – Fall
Resident Assistant of the Year - Spring
RaeAnn Parsons
Joseph Williams
Student Initiated Fee Committee Member
Zachery Albright
Maegan Aleshire
Enoch Ayanwale
Danielle Barnhart
Raylee Gibbons
Gavin Miller
Student Government Association – Freshman Representative
Student Government Association – PR Director
Student Government Association – C.A.P. Chair
Student Government Association - Secretary
Student Government Association – Treasurer
Student Government Association – Chief of Staff
Student Government Association – Vice President
Student Government Association – President
Student Government Association – Excellence in Advising
Campus Connector
Outstanding Student in Honors Program
Danielle Barnhart
Kara Cook
Mont Alto Associate Award
Mont Alto Baccalaureate Award
Outstanding Adult Learner
President Sparks Award
Gabriel Brandt
Aleesha Cramer
Ben Geoffroy
Nicolas Molchan
Andrew Sallie
President Walker Award
Dalton Blubaugh
Jon Paolo Dimaculangan  
Nathaniel Edey
Adison Gladfelter
Zachary Green
Abigail Harris
Kyla Hoffner
Charli Nowak
Bodie Rouzer
John Rubeck
Kelsey Sanders
Samantha Shaw
Justin Xiao
Martha A. Fisher Award for Excellence in Teaching – Part Time
Martha A. Fisher Award for Excellence in Teaching – Full Time
Student Organization of the Year
Student Organization Advisor of the Year
Outstanding Student for Excellence in Leadership and Service
Organization Program/Event of the Year
Black Student Union - Black History Month Speaker Series
Chancellor's Award
Eric A. and Josephine S. Walker Award