Event highlights scholarship support and joy in giving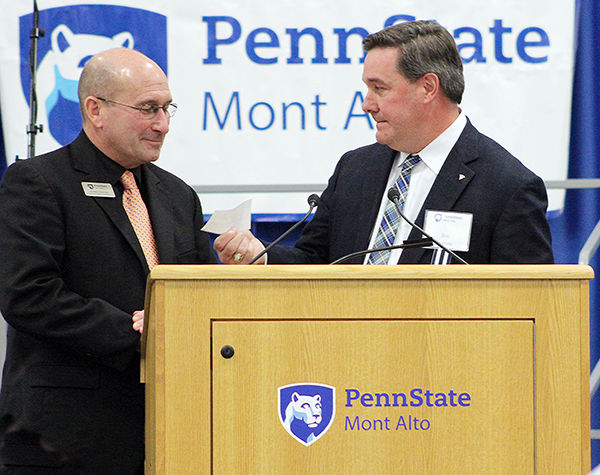 MONT ALTO, Pa. — More than 350 scholarship students and donors, as well as faculty, staff and friends of Penn State Mont Alto, attended the 21st annual Scholarship Ceremony in the Multipurpose Activities Center on Oct. 14. Throughout the evening, donors and scholarship recipients had the opportunity to meet while also hearing about the importance of receiving scholarships and the joy of giving.
Chancellor Francis Achampong welcomed the crowd. Student scholarship recipients and faculty members shared their stories and gratitude. Mont Alto alumna Sandra Offut sweetened the event with chocolate bars and other alumni expressed their reasons for supporting student scholarships, including Ellen Palmer, volunteer chair of the Penn State Mont Alto Campaign Committee, who thanked parents and donors.
"During this academic year, 338 students are receiving scholarship support, totaling $512,000," said Palmer.
"There is obviously a tremendous amount of energy being put forth at this campus, to grow and create both scholarship and program endowments to support Mont Alto students."
Palmer introduced Mont Alto alumnus Jim Ingram, president of Bartlett Trees and volunteer chair for Penn State's Commonwealth Campus Campaigns.
In July 2016, Penn State launched a new campaign and asked Ingram to serve as chair. He said he feels honored to serve the University and described the campaign's three imperatives: "Open Doors," making Penn State accessible to students regardless of their socio-economic status; "Create Transformative Experiences," providing curricular and co-curricular experiences that nurture the whole person; and "Impact the World," tackling and solving pressing global problems.
"I especially like the imperative of opening doors and making Penn State accessible to students," said Ingram. "And tonight, because life is short and we should act now, I'd like to make a gift to the scholarship in my father's name ― The Jack Ingram Endowment." Jim and his wife, Barbara, funded the scholarship honoring Jim's late father during the University's previous campaign.
Ingram handed a $25,000 check to surprised Development Director Randall Ackerman, who accepted the donation and thanked the Ingrams. The gift brings the scholarship's value to $100,000.
Dominic Lenzi, a forest technology student, expressed his appreciation for receiving the Penn State Mont Alto Advisory Board Trustee Scholarship.
"My family and I are exceedingly grateful," he said. "Even with the money my parents have saved, combined with the money I make working throughout the summer, I would not have been able to attend college without the support of this generous scholarship."
Lenzi will continue his studies in forest ecosystems management at University Park and hopes to work in a Pennsylvania or national forest.
Freshman adult learner Mandy Cook has four children and commutes a long distance to the campus from her home. Having worked for 14 years as a medical assistant and phlebotomist, she has returned to school and plans to earn a degree in occupational therapy. The Joe and Carolyn Ausherman Trustee Matching Scholarship is helping her achieve her dreams.
"As you might guess, going back to school at this point in my life has not been easy but by working through my challenges, I believe I am being an example to my children and showing them that no matter your age or stage in life, you can accomplish your goals and dreams if you persevere and work hard," Cook said.
Alumnus George Siehl has supported Mont Alto for the past 34 years, funding both a Renaissance Scholarship and a program endowment that supports student travel. Siehl began his Penn State career in the mid-'50s but ended up completing his bachelor's degree at Indiana University and went on to a successful career as an educator and researcher. Throughout his life, Siehl's heart has remained with Penn State. After retiring, he moved near the campus and has been an active member of the Mont Alto community, serving as an instructor, being a life member of the Penn State Alumni Society, a member of the Nittany Lion Club, and a member of the Mont Alto Alumni Society Board of Directors. Siehl continues to attend classes and earned a Penn State degree in spring 2016.
Siehl said he gives due to "love, obligation, and practicality … I was truly grateful. I felt an internal obligation to pay back for all the extras Mont Alto has given me."
His gift this year of $32,000 was one among nine, totaling more than $287,000, that were celebrated during the evening:
$10,000 — Scott Electric Foundation, to purchase flag poles at three Mont Alto varsity sports fields
$11,800 — The late Ethel Wagaman, former Penn State Mont Alto business office manager, estate gift
$12,900 — Jim and Barbara Ingram, Founder's Trees and the Alumni & Friends Football Tailgate
$15,000 — Ed Kocjancic and Carol Kocjancic, Mont Alto Alumni Trustee Scholarship
$25,000 — Lauraine Hawkins and husband John Fairchild, Campus Student Hardship Endowment
$30,000 — Ed Frayer and wife Mei, endowment to support athletic teams in champion play
$50,000 — Barbara Stankowski, established and fully funded a veterans' scholarship endowment
$100,000 — Page Etchison and Cindy Etchison, established the scholarship to support students from the James Buchanan School District
Kerri Toms, a freshman adult learner majoring in human development and family studies, received the Penn State Mont Alto Advisory Board Trustee Scholarship.
"How do you even begin to thank complete strangers for their generosity of funding your scholarship? … Today, I am living independently with my daughter, attending classes here full time, and working a full time job. … No matter what size your gift, its generosity is felt, cherished and wonderfully appreciated," she said
Additional photos of the event can be viewed online.