Penn State Mont Alto Career Services prepares students to meet prospective employers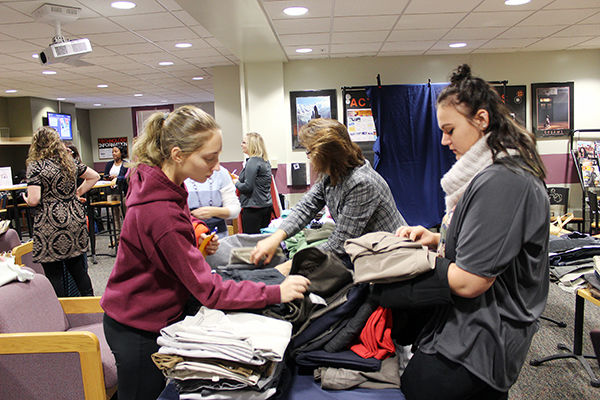 MONT ALTO, Pa. — Students who need clothes for an interview, career fair or professional event can peruse donated business attire, try on the items, and keep them free of charge during Penn State Mont Alto's Career Closet during the afternoons of Nov. 1 to 3 in the Wiestling Hall Student Center.
The idea to have a Career Closet started with a phone call to Patty Gochenauer, Penn State Mont Alto career counselor.
Becky Starliper, a member of the 11/30 Network ― a group of Franklin County young professionals ― had collected gently used clothing for use during a business fashion show and wanted to donate it to young professionals in need.
"So we decided to provide it to students who could use it," she said.
Gochenauer saw the opportunity to assist students on a budget who are unable to afford professional attire. She not only accepted the donation but also encouraged Mont Alto faculty, staff, alumni and friends to donate additional items, including men's and women's suits and dress pants, blouses and dress shirts, gently worn shoes, belts, ties, scarves, jewelry, and handbags.
On its first day, the Career Closet opened with a ribbon cutting and was well attended. Students rooted happily through stacks of slacks and piles of shirts, trying on jackets and shoes. They could also find handouts on the proper business attire and how to prepare for interviews.
"Considering that we are paying tuition, this is definitely a help to get business casual clothes for interviews," said nursing student Katelyn Jackson.
Physical therapy student Sean Fulton will complete a required clinical internship this fall. "Having some professional clothes will be great. This makes it a lot easier than having to go out and spend money that I don't have," he said.
Several 11/30 members were present for the ribbon cutting and to assist students in making their selections.
"The 11/30 Network provides outlets for people under 40 to meet, to network, and to give back to the community," said Blake Truman, 11/30 membership committee chair.
"We try to have two events a month relating to something for the community. We also do some professional development."
Gochenauer was pleased with student turnout on the first day. "The Career Closet is a way to ensure that students can present themselves in a professional manner to prospective employers for interviews, clinicals and internships," she said.
"No item will be wasted," she added. "Following the event, all unclaimed items will be donated to Waynesboro's New Hope Shelter."
For more information, contact Gochenauer at [email protected].