Penn State Mont Alto Veterans Day ceremony honors and thanks veterans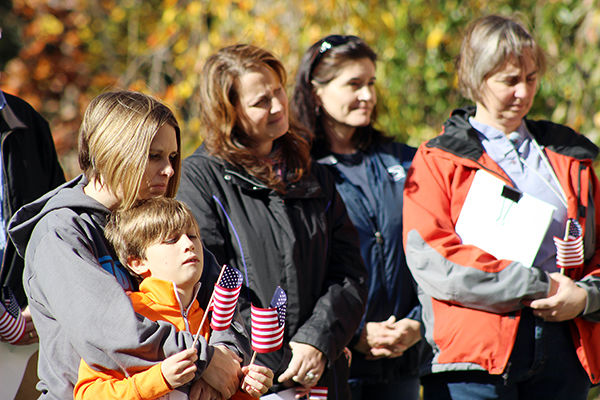 MONT ALTO, Pa. ― About 50 members of the Penn State Mont Alto community and friends gathered today (Nov. 11) at the Veterans' Memorial near Conklin Hall to honor and thank those who have served in the United States armed forces.
Grayson Whistler, Student Veterans Association president and Air Force National Guard member, welcomed the crowd and recalled a recent meeting and photograph with Col. Walter J. Marm Jr., U.S. Army (Ret.), the last surviving Medal of Honor recipient born in Pennsylvania and author of "We Were Soldiers," a movie produced by Mel Gibson.
Marm told Whistler he disliked pictures because "the only things that are important in life are the things you can remember and not the ones you have to be reminded of," said Whistler.
"The more I thought about what Col. Marm said, the more I agree with him. We should not have to be reminded every year on a special day to think of our veterans but, instead, we should remember them every day," said Whistler.
Joshua Hersl, U.S. Army veteran and forest technology student, described his recent research that revealed World War I veterans had returned to campus in 1925 ― then the Pennsylvania State Forest Academy ― and planted trees for those who didn't make it back from the war. Three of those trees remain on campus and are marked with red and yellow ribbons. He invited the audience to visit the trees in their remembrance.
Francis K. Achampong, Penn State Mont Alto chancellor, said it is fitting that the campus community gathers at the memorial on Veterans Day, especially since the Student Veterans Association had conceived the project and raised funds for it and that it was dedicated on Sept. 11, 2012.
Achampong also mentioned some recent news relating to Mont Alto veteran students and services, including Hersl and Ben Stephey presenting at the National Society of American Forester's Convention in Madison, Wisconsin, on Nov. 6; Moses East and Pete Lancaster serving as flag bearers during the Penn State-Iowa football game when student veterans across the University were honored on Nov. 5; and Mont Alto being recognized as a top 10 Military Friendly School by Victory Media in its "2017 Guide to Military Friendly Schools."
"We didn't go out looking for recognition," said Achampong. "We do it because it is the right thing to do."
Whistler invited the crowd to Mont Alto's Veteran Center for refreshments and concluded the ceremony by saying, "It goes without being said or written down, or put on a calendar that our veterans deserve every ounce of respect and gratitude they have earned. But not just today or Memorial Day or Armed Forces Day, but every day."
See more photos of the event here.