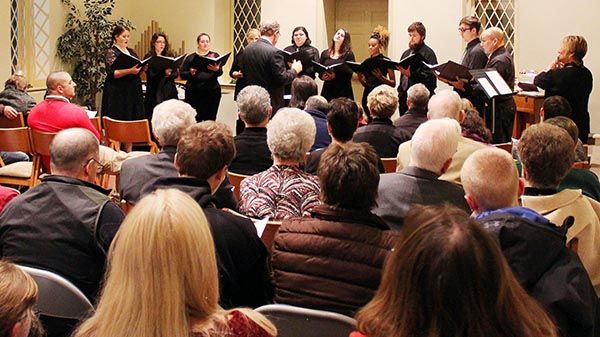 MONT ALTO, Pa. — Members of the Penn State Mont Alto Student Chorale visited with program supporters and campus community members during a pre-concert reception in the Heritage Room of the Millstream Café on Dec. 13. Afterwards, the group performed "Never a Brighter Star" under the direction of Frederick Davison, instructor in music, arts, and humanities to an audience of about 60 people. Sounds of the season filled the historic Emmanuel Chapel with music that featured a unique blend of traditional sacred and secular holiday choral favorites.
See more photos here.
The Chorale's performances are made possible by the Miner Choir Endowment. Established in 2013 by Kathyrn Miner, the endowment provides the opportunity for students to perform on and off campus each semester and to host an Annual Spring Choral Festival on campus. The 2017 festival is scheduled for May 6 and begins at 6:30 p.m.