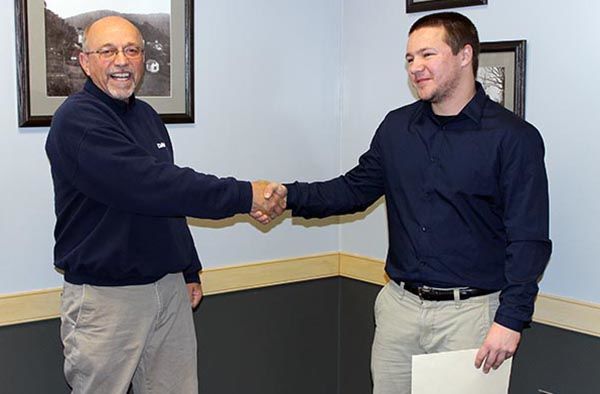 MONT ALTO, Pa. ― Penn State Mont Alto forestry student Ryan Karroll of Smithsburg, Md., received a Davey Foundation Arbor Grant Award on Dec. 14. In 2016, the Davey Tree Expert Company awarded 50 $1,000 merit-based scholarships to the best and brightest students in the green industry across the United States.
Karroll, who graduated in December with an associate degree in forest technology, said he was elated to learn about the award.
"I am definitely honored. I didn't expect to get this and now that I am graduating and realizing I have college loans, it is that much more meaningful to get it now," he said.
Davey Tree District Manager Kevin Mullinary traveled from Baltimore to the Mont Alto campus with his wife, Susan, also a Davey Tree employee, to deliver the award.
"I am pleased to present this award to Ryan," said Mullinary. "Davey Tree is proud to provide educational support to budding green industry students through the Arbor Grant Scholarship program. We need students who are interested in caring for trees in the suburban and urban settings as well as in our forests."
Following graduation, Karroll will work for Bartlett Tree Experts in Chambersburg. He gives credit for his success to Forestry Instructors Beth Brantley and Craig Houghton.
"I loved it here," he said about his studies at Penn State Mont Alto. "It was priceless."
"Dr. Brantley and Mr. Houghton are inspirational and really know how to give students hands-on experience. Everything they taught us has some real-world application," he said.
Houghton said Karroll is an excellent student and also served as a member of the Penn State Mont Alto Woodsmen Team and as communications officer for the Forestry Club.
To be eligible for an Arbor Grant scholarship, students must be enrolled in a two- or four-year program that focuses on forestry, urban forestry, arboriculture or another green industry field.