Penn State Mont Alto to celebrate Nittany Nose Day in fight against pediatric cancer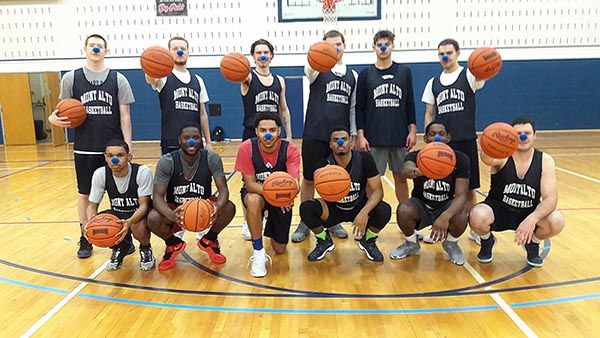 MONT ALTO, Pa. ― This Valentine's Day Amanda Forney, Penn State Mont Alto president of the Human Development and Family Studies (HDFS) Club, is not looking to receive a romantic gift or card from a loved one. She has an unusual wish ― "to see everyone on campus wearing a blue nose!"
For the first time, blue noses will be sold by members of the Human Development and Family Studies (HDFS) Club and THON who are working together to raise money and awareness to fight pediatric cancer. Starting on Jan. 28, Nittany noses can be purchased for $2 during the women's and men's basketball teams' last home games at 1:00 p.m. and 3:00 p.m. Thereafter, they will be available 11:30 a.m. to 1:30 p.m., Mondays through Thursdays, at The Millstream Café and the Academic Support Center, Jan. 30 through Feb. 9. Individuals and businesses from the wider community are also welcome to purchase Nittany noses.
Then, on Feb. 14, the Penn State Mont Alto campus community will celebrate Nittany Nose Day on Valentine's Day, by wearing blue noses in support of THON ― formally named The Penn State IFC/Panhellenic Dance Marathon.
"We hope to sell 500 noses and raise at least $1,000 for THON," said Forney.
All donations will go to the Four Diamonds Fund in care of the Penn State Mont Alto benefitting THON group. The Four Diamonds' mission is to conquer childhood cancer by assisting children treated at Penn State Children's Hospital and their families and funding innovative research.
Penn State Mont Alto's THON group raised $42,724 last year and donated its largest amount of $101,948 in 2015. Besides the campus community, donations are received from individuals and businesses in the Chambersburg, Waynesboro, Gettysburg, and Greencastle communities.
"The HDFS Club was generous enough to come to us saying they wanted to help THON raise money to defeat cancer and we are very thankful," said Mont Alto THON Chair Christopher Overdorff.
"Through THON, we can help make a difference in the life of a child and their family, so we can crush cancer and so no family has to deal with the child having this horrible disease," he said.
See photos of those who support Nittany Nose Day here.
Since 1977, THON has raised more than $137 million for Four Diamonds at Penn State Hershey Children's Hospital. THON 2017 will take place February 17-19 at Penn State's Bryce Jordan Center. Visit www.thon.org for more information.
For more information about how to purchase blue noses or about Nittany Nose Day, contact HDFS Club Adviser Cheryl Cheek at [email protected].