Nittany Lions overcome Williamson Mechanics (66-56) in nail-biting fashion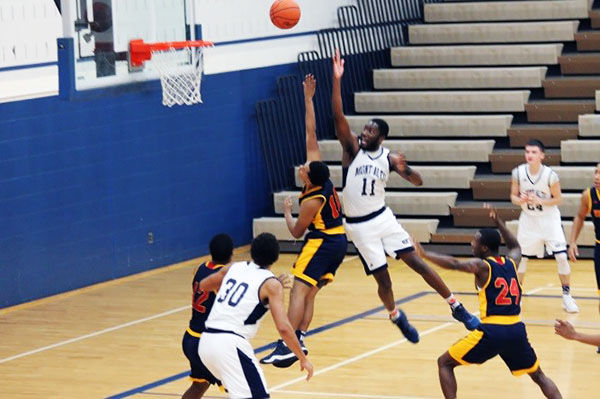 MONT ALTO, Pa. ― Penn State Mont Alto's men's basketball team avenged an earlier season loss to Williamson by closing Wednesday night's game (Jan. 25) on a 13-2 run to a 66-56 victory.
Mont Alto jumped out to an eight-point lead with 1:56 left in the first half but Williamson clawed its way back to get within two points. The second half was a close, back and forth battle until Mont Alto went on its run during the final four minutes of the game with Mont Alto's Shuntan Hickman providing the final exclamation as he dunked the ball in the waning seconds.
Mont Alto went 28 of 55 from the field on 12 assists with 38 rebounds and 12 steals. Jerome Evans and Sharif Welton led all scorers with 19 points each and Shuntan Hickman chipped in 14 points for Mont Alto.
Williamson went 24 of 60 from the field on 18 assists with 26 rebounds and 13 steals led by Kevin Whitfield and Aaron Parker scoring 15 and 12 points, respectively.
Penn State Mon Alto's head coach Jack Schenzel was pleased with the way his defense played against the No. 3 ranked team in the country.
"Penn State Mont Alto has had the top defense for the last five seasons and that was the biggest contributing factor in our victory tonight."
"All-Americans Jerome Evans and Sharif Welton both played great and, while Terrell Campell's stats may not show it, he was an integral part of tonight's win," said Schenzel
"WE NEED YOU!" said coach Schenzel in a battle cry to the fans after the game.
"As Penn State Mont Alto prepares to host the No. 2 ranked team, Penn State Greater Allegheny. The game is Friday night in the MAC with the women starting at 6:00 p.m. and the men at 8:00 p.m. So, let's get out there and show our support!"
"We are...PENN STATE MONT ALTO!"