Four dancers and 85 supporters attended the Penn State IFC/Panhellenic Dance Marathon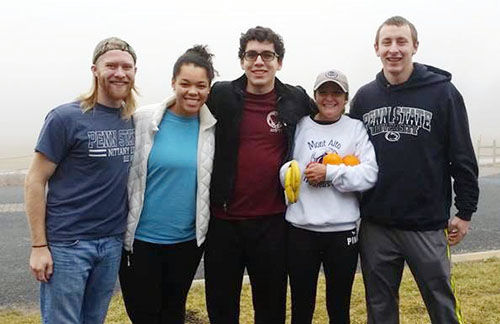 MONT ALTO, Pa. — Four Penn State Mont Alto student dancers and 85 supporters participated in the 2017 THON, held Feb. 17-19 at the Bryce Jordan Center in State College, resulting in a total of more than $44,253 for the Penn State IFC/Panhellenic Dance Marathon.
In 2016, Mont Alto raised $42,724; Its largest donation was $101,948 in 2015.
The event culminated the students' yearlong fundraising efforts to fight pediatric cancer in a 46-hour, no-sitting, no-sleeping dance marathon. University-wide, THON raised more than $10 million for the Four Diamonds Fund at Penn State Children's Hospital in Hershey.
Mont Alto's student dancers were senior Erica Newton from Chambersburg; junior Joel Clabaugh from Elliottsburg; and sophomores Taylor Seizers from Lewisberry and Carlos Pimentel from Frederick, Maryland.
The Mont Alto THON group raised funds both on and off campus, according to THON Adviser Donna Rhodes, coordinator of student activities and program development.
"Our students have worked very hard this year and danced all weekend with 16,500 Penn State THON volunteers to celebrate raising funds and awareness for the fight against pediatric cancer," she said.
"It's a really cool experience," said Christopher "Topher" Overdorff, Mont Alto Campus THON chair. He danced for the entire 46 hours during last year's event.
"It's physically difficult, but more mentally difficult," he said. "As a dancer, you're self-inflicting pain on yourself. You're staying awake for 46 hours and it's very taxing. But it's nothing compared to the pain these kids and their families feel," he said.
THON is the world's largest student-run philanthropy, engaging more than 16,500 students. Since 1977, it has donated more than $136 million to Four Diamonds at Penn State Children's Hospital, funding comprehensive care and critical research.