Penn State Mont Alto Lion Ambassadors read to students and present the Nittany Lion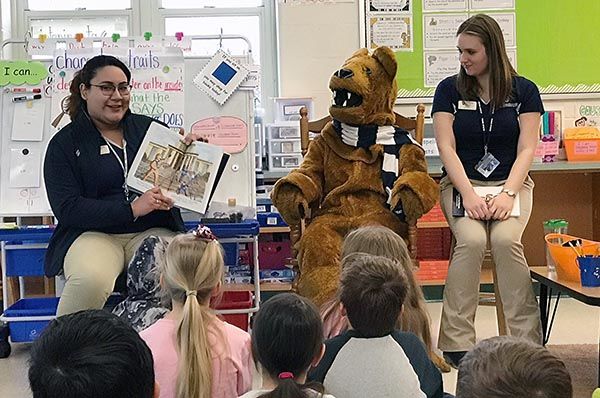 MONT ALTO, Pa. ― On March 31, Penn State Mont Alto's Nittany Lion Reads program, which promotes reading at local schools, visited the Scotland Elementary School in Chambersburg.
Penn State Mont Alto Lion Ambassadors Marley Billman, Arly Ariaga and Maddie King, dressed as the Nittany Lion, visited Scotland's kindergarten and second-grade classes, where they read a book and gave the children the opportunity to meet and greet the Nittany Lion.
The kindergarten students received a picture of the Nittany Lion to color, and Billman created a word search for the second-grade students with words pertaining to college and Penn State. Both classes also received Penn State pencils and erasers.
"The students and teachers enjoyed meeting and seeing the lion and the Lion Ambassadors," said Deb Ferguson, Lion Ambassador co-adviser. "It is also a good experience for the ambassadors."
There is no cost to attend the program, which lasts approximately half an hour. The Nittany Lion Reads program will next visit the Nancy Grayson Elementary School in Shippensburg on April 7.
For more information, email Ferguson at [email protected].