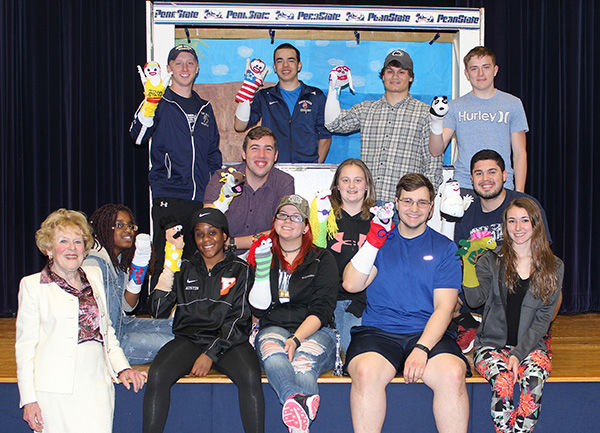 MONT ALTO, Pa. — On April 21, Penn State Mont Alto theater students will perform four puppet shows beginning at noon at the Waynesboro Daycare Center in Waynesboro, Pennsylvania. About 60 children, ages 4 and 5, will attend the performance. All of the shows have educational themes, including sportsmanship, recycling, healthy eating and exercise, and sharing and working together.
"All our puppet shows are original and educational," said Penn State Mont Alto Assistant Professor of Integrative Arts Nancy Funk. "The students not only write the scripts on various social issues, they also make the sock puppets and paint bed sheets as backdrops for the physical puppet theater."
The puppet shows are part of Funk's Process of Acting class and give students the opportunity "to explore their physical, vocal and emotional capabilities," she said.
Tia Nicola, a human development and families studies student from Chambersburg, Pennsylvania, led the group presenting "Dirty Ocean/Recycling."
"The puppets in our play are picking bottles out of the ocean and putting them in a recycling bin," Nicola said. "Our message to the children is to help clean up the planet."
"The Fun of Sand Castles" illustrates the importance of sharing, according to Nicole Marshall, a nursing student from El Paso, Texas, who directed the play.
"My puppet is Miss Rose and she is a teacher who is helping two students (puppets), Timmy and Chyna, learn about teamwork," she said.
The children will also participate in playing games in between each puppet show, led by Alexander Gallaher, an early childhood education student from Camp Hill, Pennsylvania.