Penn State Mont Alto recognizes and honors winners during awards ceremony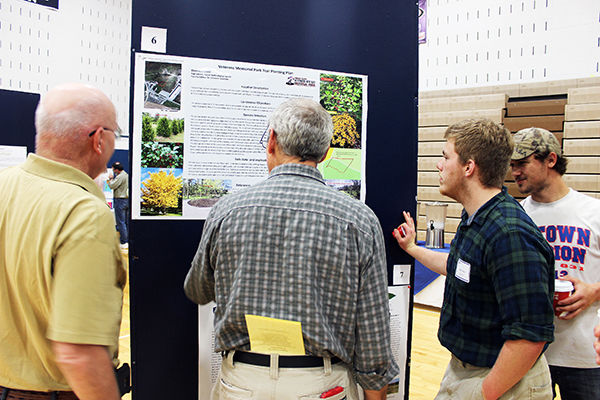 MONT ALTO, Pa. — Nearly 100 Penn State Mont Alto students presented and displayed their best academic and artistic work during the Twelfth Annual Penn State Mont Alto Academic Festival on April 21, 2017 in the Multipurpose Activities Center (MA­­C).
The students' work covered a wide array of topics and ranged across all majors and subjects. Art projects were also on display in the Penn State Mont Alto Library and included drawings, paintings, and photographs.
Following the festival, winners were announced and recognized during an awards ceremony in the General Studies Building Auditorium.
Informational Exhibits
First: Comparison of Heroin-assisted Treatment and Methadone Maintenance, Kyle Evans
Second: Trees of the Soldiers' National Cemetery, Jeremy Newman
Third: Boobies or Bottles? Jenna Stoner and Nina Siciliano

Research Posters
First: Timing of Feeding Behavior in Different Bird Species, Dillon Gruver
Second: Mirroring Therapy for Phantom Pain, Courtney Stump
Second: The Efficacy of Hand Sanitizer, Grayson Whistler

Oral Presentations and Performances
First: Managing the Stress of Service Dog Partnership, John Wiesniewski
Second: Fashion Industry, Melissa Karlheim
Third: QR Codes in the Arboretum, Nicholas Joseph Malone

University Libraries Information Literacy Awards
Proper Positioning, Birgitta Ott
The Efficacy of Hand Sanitizer, Grayson Whistler

Art
First: Dementia, Rena Velez
Second: American Pastime, Haley Wagaman
Third: Abstraction, Leah Higbee

Art Honorable Mentions
Down Stream, Rena Velez
Breakfast, Lunch, and Dinner, Ode to College, Haley Wagaman
Inuit Ice Fishing, Bradley Alexander
Colorado Sunset, Alexa Rudisill
Zeus, Alexi Booth

See photos from the day here.