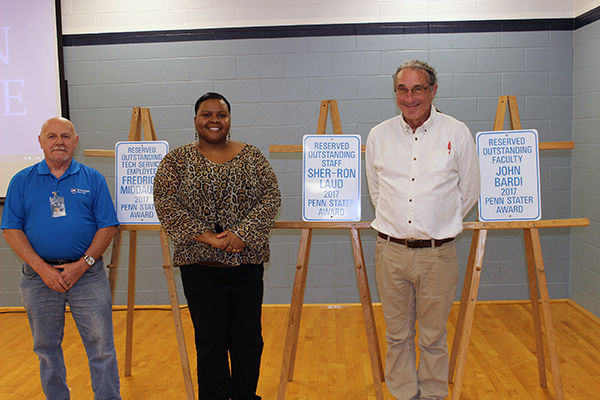 MONT ALTO, Pa. ― Chancellor Francis K. Achampong thanked and recognized Penn State Mont Alto faculty and staff for their hard work and dedication on May 5 during the annual End-of-Year Luncheon and Awards Ceremony in the Multipurpose Activities Center (MAC). See more photos here.
"We did it again!" he said. "We accomplished a lot this year. Thank you for another successful academic year."
Following the luncheon, several awards were presented:
Length of service awards (full time years of service at Penn State)
30 years
Pam Fohner, business services staff assistant
William Rock, maintenance worker
Michael Shindle, maintenance mechanic
25 years
John Long, instructor in biology
Alice Royer, senior instructor in English and in women's studies
Kim Wiley, housing and food services staff assistant
20 years
Mike Doncheski, chief academic officer
Alica (Lisa) White, head librarian
15 years
Greg Mahlon, associate professor of physics
Ron Swope, director of finance and business
10 years
Randall Ackerman, director of development
Rhonda Everett, maintenance worker
Kandyce Koons, snack bar attendant
Kimberly Neibert, residence hall utility worker
Grace Rockwell, executive assistant to the chancellor
Caroline Shreck, residence hall utility worker
Rodger Small, maintenance worker
Judith Staley, building operations staff assistant
Retirees and years of service
John Bardi, instuctor in philosophy (24)
Michael (Max) Bramel, instructor in psychology (19)
Cheryl Cheek, associate professor of human development and family studies (17)
Andrea Christopher, director of student affairs (41)
Pam Fohner, business services staff assistant (30)
Richard Kane, associate professor of English (49)
Deborah Mirdamadi, instructor in mathematics (31)
Kathy Swope, veterans' certifying official, student affairs staff assistant (21)
Ron Swope, director of finance and business (15)
Alica (Lisa) White, head librarian (20)
Kim Wiley, housing and food services staff assistant (25)
Steve Zemyan, professor of mathematics (34)
PIE (Partnership, Impact, Excellence), Faculty and Staff Collaboration Award ― Career Closet, Patricia Gochenauer, career counselor and collaborators: Donna Rhodes, coordinator of student activities and program development; Brandi Biesecker, development assistant; Terri Doss, development staff assistant; Grace Rockwell, executive assistant to the chancellor; Charlene Saeman, staff assistant to academic affairs; Helen McGarry, director of continuing education; Deborah Mirdamadi (who provided sewing survival instruction), students Christopher Overdorff and Lindsay Devers; Bradley Kendall, supervisor of maintenance and operations and the operations staff; and many others.
The Career Closet is a perfect example of how teamwork and collaboration can result in an outstanding opportunity for students. Gochenauer's brainchild, the Career Closet came about after Becky Starliper, a member of Franklin County's 11/30 Network, offered to donate some gently used clothing to students. Recognizing that students could use some help with affordable professional attire, Gochenauer encouraged Mont Alto faculty, staff, alumni and other community members to donate additional clothing. With more than 900 items donated, the monumental task of sorting, moving and displaying the clothing required assistance from lots of volunteers, many of whom also helped at the event itself over several days.
The result was that 108 students visited the Career Closet, claiming 439 items. Two hundred items were donated to New Hope Shelter, and the rest was saved for future Career Closet events. This outstanding program would not have been possible without the support and collaboration of multiple people and departments.
Sustainability Award ― Michael (Max) Bramel, instructor in psychology. The Mont Alto campus' strategic plan includes as one of its goals strengthening our commitment to sustainability by learning about sustainability, living out our commitment to sustainability, and leading in the area of sustainability. Bramel co-chaired the Campus Sustainability Committee for two years and was a founding member of the original Green Team committee in 2012. He did a lot of legwork on the sustainability component of the campus strategic plan. He has organized programming for MADE and incorporated sustainability into his class with a social dilemma exercise called the "Commons Game." He also personally exemplifies sustainability.
Chancellor's Giraffe Award ― Career Closet, Patricia Gochenauer, career counselor (see above). This award was created to recognize people who stick their necks out and do something above and beyond their normal duties that advances the campus and makes it a better place.
Campus Builder Awards, presented by Randall Ackerman, director of campus development. "To recognize and reward a campus citizen who goes beyond doing their job well. … Builders are imaginative, creative individuals. Their actions are not undertaken for professional advancement, nor are they isolated events, instead they form a pattern of selfless behavior that benefits the Mont Alto campus community time after time."
Elizabeth Brantley, instructor in forestry. "I don't think I have ever seen a faculty member more excited to teach. When you witness this, you can't help but smile and know the students are receiving the best education possible. … She is known for her passion surrounding our campus showplace, our arboretum, constantly overseeing the planting of new trees and the maintenance of the existing ones."
Amy Cody, bookstore manager. "She is an invaluable coordinator of information connecting students to faculty, and faculty and staff to each other. … She is a model for all of us, observant, caring, and proactive, she is a quiet leader."
Kathy Swope, student affairs staff assistant and veterans' certifying official. "She was active in helping secure funds for the Veteran's Memorial and the Veteran's Center. She has volunteered significant amounts of time and resources for student veteran success in their educational experience. … Her hard work has gained Mont Alto national recognition as the campus has been ranked fourth nationally as a Military Friendly school."
Ron Swope, director of finance and business. "He is recognized for his broader vision. He always approaches each situation with respect and dignity and he always sides with the best approach for the Mont Alto campus. … His influences and projects will be part of this campus for decades to come."
Penn Stater Awards ― "To annually recognize outstanding service by Mont Alto staff, faculty, and tech service employees."
Penn Stater Tech Service: Fred Middaugh, maintenance worker. "Fred shows his skill and ability everyday he comes to work by doing above and beyond what his job requires. He always comes to work with a big smile and asks anyone he runs into if there is anything he can help them with or do for them. … He treats everyone with the same respect and is always willing to help no matter what. … Chivalry is a word that best describes Fred."
Penn Stater Staff: Sher-Ron Laud, associate director of student affairs. "Sher-Ron oversees Campus Life, which includes Student Activities and Residence Life. This year was especially challenging, because for most of the year she was significantly short-staffed. … Despite the challenges, Sher-Ron made sure that the student on-campus living experience was not impacted, and she did so without complaint."
Faculty Penn Stater and The Martha Fisher Award for Excellence in Teaching (full-time): John Bardi, instructor in philosophy. The recipient of the Fisher Award is nominated by students and chosen for "knowledge of the subject s/he teachers, ability to clarify difficult concepts, class preparation, respect for students as individuals, skills to encourage student participation in discussion, and strengths that set them apart."
"'Competency' and 'enthusiasm' hardly do justice to John Bardi's relationship with his teaching, his discipline, and his life. Philosophy and teaching are one and the same for him ― he lives and breathes it, by nature, and this passion for enquiry and for the pursuit of ideas for their own sake follows him wherever he goes. … He throws his heart entirely into his classes, his students, his discussions and can be found on campus far more often than most."
Promotions (effective July 1)
Elizabeth Brantley, promoted to senior instructor of forestry
David Seitz, offered tenure and promoted to the rank of associate professor of communications