Lucina birthing simulator celebrated and demonstrated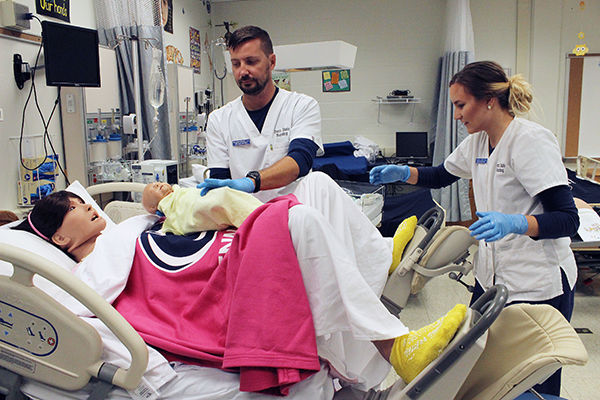 MONT ALTO, Pa. ― On Aug. 31, Penn State Mont Alto dedicated the Summit Health Nursing Lab and celebrated the arrival of Lucina — a wireless maternal simulator that will allow nursing students to practice a wide range of birthing scenarios.
The dedication and birthing demonstration were from 10 to 11 a.m. in the Science-Technology Building, Room 114, on the Mont Alto campus. About 50 donors and members of Summit Health and Penn State Mont Alto attended.
Lucina is a life-like, 5-foot-9, 111 pound simulator with a 5.5 pound fetus. The human simulator can be programmed to practice a variety of birthing scenarios from a normal delivery to obstetrical emergencies such as a breech delivery and a major postpartum hemorrhage.
This high-tech teaching tool gives students the ability to practice their nursing skills, develop critical thinking, communication and clinical skills with no risk to real patients.
Each simulation is controlled by the instructor who sets the birthing scenario. Vitals of the mother and infant are displayed on a special monitor as students make decisions and deliver the necessary care. If they don't deliver the proper care, their patient may perish during the simulation, but no one is at risk. Lucina can simply be reset and the situation can be practiced again and again until students master the scenario.
"Penn State is advancing the nursing program to educate and prepare students for rare and high-risk emergencies," said Carranda Barkdoll, Penn State Mont Alto nursing program director.
"Lucina is the only wireless high-fidelity child birthing simulator that can provide vitals for both the birthing mother and child giving instructors the ability to train nursing students on all stages of delivery as well as for the rare emergency. Our nursing graduates will be prepared to recognize any situation and respond appropriately," she said.
Lucina was purchased from CAE healthcare, a company that "delivers educational tools that help health care professionals provide safe, high quality patient care," according to its website.
Summit Health's gift of $125,000 helped purchase Lucina along with training and incidentals and additional extended warranty options.
"We are proud of our partnership with Summit Health. The leadership and board of Summit Health should be applauded for their visionary leadership in supporting nursing education," said Francis Achampong, Penn State Mont Alto chancellor.
"We are so very appreciative of our partnership with Penn State Mont Alto and are excited to be making this investment for the education of Penn State Mont Alto nursing students. Summit Health is dedicated to investing in the future of local nursing and future health of our community," said Sherri Stahl, Summit Health senior vice president of hospital services.
Penn State Mont Alto's nursing program has educated nurses since 1991 and has graduated more than 1,000 registered nurses. Its program is part of the Penn State College of Nursing, which has offered a nursing education to students for more than 50 years. About 140 students are currently enrolled in the program.
"Our nurses are working and teaching in all aspects of health care in our region and many remain in the area. In fact, 40 percent of the class of 2016 is employed in Franklin County," said Achampong.
"Summit Health's support enables Penn State Mont Alto to not only help train high-quality nurses, but to also meet the healthcare needs in our region," he said.