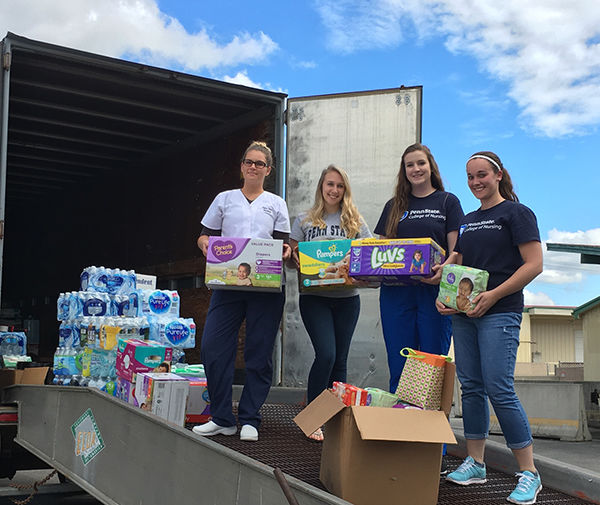 MONT ALTO, Pa. — Penn State Mont Alto's Student Nursing Association of Pennsylvania (SNAP) collected diapers during the Aug. 31 dedication of Mont Alto's Summit Health Nursing Lab and celebration of the campus' new child birthing simulator, "Lucina and baby."
The event had the theme of a baby shower and SNAP members invited attendees to provide diapers as shower gifts, which they would donate to a local nonprofit organization. But they decided to help hurricane victims instead.
"We feel that providing aid to those stricken by disaster in other areas of the world is just as important," said SNAP President Kaitlin Ganoe.
"The disaster relief in Texas is pressing and the individuals need our help now. We must all come together to provide as much help as we can to our distant communities," she said.
Green Stream Solutions, LLC, and Heritage In-Home Services collected goods in Franklin County to send to Texas flood victims. Gabler Trucking donated the trailer.
SNAP is open to all nursing students and members take part in both community service and social events.
"SNAP is dedicated to making a difference in the community," said Ganoe. "We focus on community-driven events that enrich the lives of those living here, as well as educating individuals about the nursing profession in general."