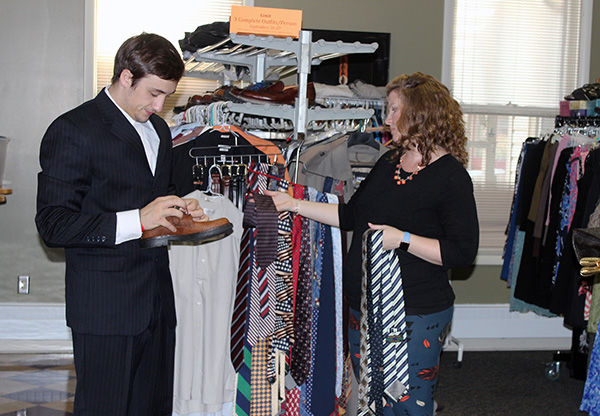 MONT ALTO, Pa. — From Sept. 26-28, Penn State Mont Alto Career Services held its second annual Career Closet in the Wiestling Student Center, offering free professional clothing to Mont Alto students for interviews, internships and job placement. More than 100 students took advantage of the opportunity, claiming 1,053 items, according to Patricia Gochenauer, Penn State Mont Alto Career Services counselor.
"Some students may not have what they need to present themselves in a professional manner to prospective employers," said Gochenauer. "The Career Closet is a way to ensure that they have appropriate workplace attire at no cost."
The event started in 2016 when Becky Starliper, a member of the 11/30 Network ― a group of Franklin County young professionals ― had collected gently used clothing for use during a business fashion show and wanted to donate it to young professionals in need. Gochenauer saw the opportunity to assist students who are unable to afford professional attire.
About 1,800 items were donated this year, again from members of the 11/30 Network and also from members of the Mont Alto faculty, staff and community. Ulta Beauty Distribution Center in Chambersburg donated cosmetics and other personal-hygiene items, including cologne and perfume, skin care and deodorant.
"I think it is a great opportunity for students to come get clothes for interviews and professional attire," said physical therapist assistant student Brittany Leab. She will be interviewing for a job following clinicals in December.
Gochenauer said she was pleased with the turnout and grateful for the more than 25 student and staff volunteers who assisted with the Career Closet event.
"I love helping students, and this really helps make their day," said Brandi Biesecker, development assistant, after helping a student select a tie to match his shirt.
In addition to receiving professional clothing, students submitted applications throughout the week for a chance to receive an extreme makeover, sponsored by Get The Look Salon and the Penn State Mont Alto Alumni Association Board. In October, Career Services chose two students from the applications received for makeovers. On Nov. 1, the students will get makeovers and wear their professional attire for a "professional reveal" during the Mr. Mont Alto Contest, a THON fundraiser.
No item was wasted. Following the event about 500 unclaimed items were donated to Waynesboro's New Hope Shelter and 300 items were retained for next year's closet, according to Gochenauer. New Hope Shelter sorted items at the shelter that clients could use; remaining items went to the Thrift Store in hopes of generating additional funds; and items not sold will be collected by a clothing recycling program.
For more information about next year's event, contact Gochenauer at [email protected] or 717-749-6104.