Penn State Mont Alto Colloquy Series Talk celebrates National Coming Out Day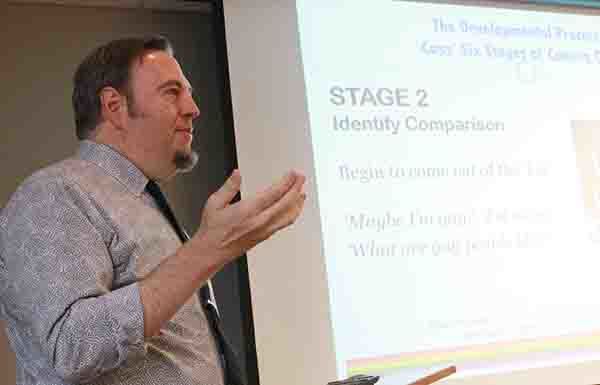 MONT ALTO, Pa. ― On Oct. 11, 2017, Director of Student Affairs Curtis Hoover presented a Faculty and Staff Colloquy Series talk, titled "Coming Out in the U.S.: An Overview."
The talk was in honor of National Coming Out Day (NCOD) ― an annual lesbian, gay, bisexual, and transgender (LBGT) celebration observed on Oct. 11 ― and in support of Penn State's mission to provide a culturally diverse and mutually respectful environment where every member of the university community can feel safe, respected, and accepted.
Hoover's talk explored the lifelong developmental process of coming out, how changes in laws and societal views over the last 50 years have impacted the LGBT community and their civil rights.
As a student affairs professional, Hoover has worked to support LGBT students in various roles and understands the importance of providing a supportive learning environment where they can thrive. He can also relate to their experiences.
"Coming out is so important," he said. "My parents did not know anything about gay people, but when I told them I was gay, they began to learn about it and understand it."
"If you know and care about someone who is LGBT, you are more likely to support issues that positively impact LGBT people," said Hoover who recalled a proud moment when seeing his parents wave to him as he participated in the 2000 Millennium March ― an event to raise awareness and issues of LGBT rights ― held in Washington, D.C.
Hoover's talk covered significant moments in LGBT history. The first event to ignite the gay rights movement was the 1969 Stonewall riots, a series of spontaneous demonstrations by members of the gay community against a police raid in Greenwich Village, New York. He also noted many other cultural and political events such as Ellen DeGeneres being the first gay lead character on television in 1997 and Massachusetts being the first state to legally recognize same-sex marriage in May 2004.
"I was shocked," said Hoover. "I did not see marriage being accepted that early…That was a really big deal for me and the country," he said.
In more recent years, the LGBT community benefited from a supportive Obama administration and the passage of laws to better equalize their civil rights. In 2013, the U.S. federal government recognized same-sex marriage and extended federal benefits to couples in states that allowed same-sex marriage; and in 2015, the Supreme Court ruled that states are constitutionally required to issue marriage licenses to same-sex couples across the country.
Since January 2017, however, support for the LGBT community has waned, according to Hoover. Examples of declining support include removal of LGBT resources from the White House website, the rolling back of Title IX protections for transgender students, and again banning transgender individuals from serving in the military among many others.
While recent events disappoint Hoover, he continues to believe in being a good role model for LGBT students and educating others about the LGBT community. In closing, he recommended the audience attend upcoming Safe Zone Training ― a Penn State program that is designed to raise visibility about the LGBT population, to help others understand the issues facing LGBT students, and to become aware of the LGBT resources at Penn State.