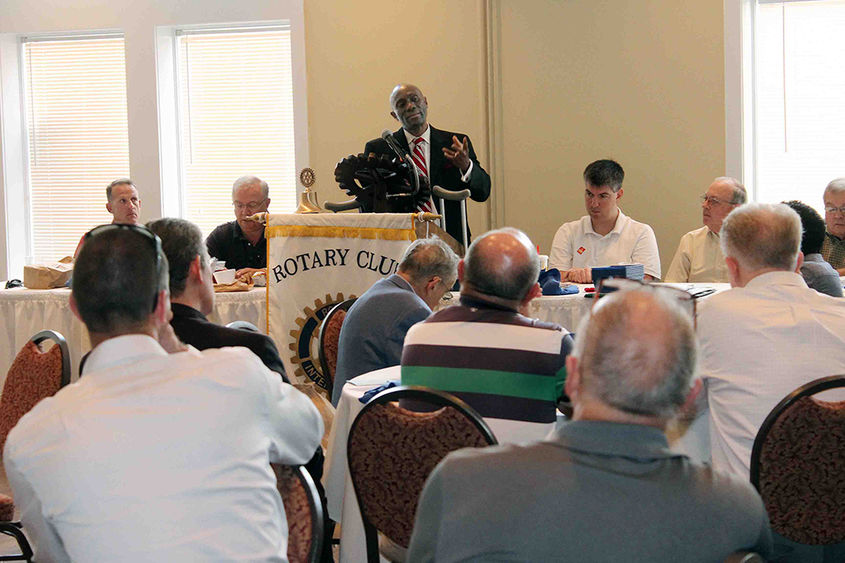 MONT ALTO, Pa. ― Penn State Mont Alto Chancellor Francis K. Achampong and Waynesboro Rotarian urged fellow Rotarians and others to continue in the fight to eradicate polio on World Polio Day, Oct. 24.
"Today there are between 10 to 20 million polio survivors worldwide ― one of the largest disabled groups in the world ― and I happen to be one of them," said Achampong.
While growing up in the Gold Coast, now Ghana, in Africa, Achampong contracted polio at the age of 3.
Since Rotary and its partners launched the Global Polio Eradication Initiative nearly 30 years ago, the incidence of polio has plummeted by more than 99.9 percent, from about 350,000 cases a year to just 37 cases in 2016. As of Oct. 18 of this year, there were only 12 cases of polio — seven in Afghanistan and five in Pakistan, according to Achampong.
"I have no memory of contracting polio. I just tripped and fell. It turns out my left leg was paralyzed ... I got very sick and crawled for awhile until I could walk again," he said.
While Achampong says he has suffered and that polio leaves scars, he considers himself to be fortunate.
"I have realized success, including having a beautiful family," he said.
World Polio Day was established by Rotary International over a decade ago to commemorate the birth of Jonas Salk, who led the first team to develop a vaccine against poliomyelitis.
Born in the 1950s, shortly after Salk developed the first vaccine, Achampong does not know how he contracted the virus but credits his parents for how they handled the disease.
"The best advice my dad ever gave me was, 'stay in school and study hard,'" said Achampong, who says he has compensated for his disability by getting a good education.
Since 1985, Rotary has contributed more than $1.7 billion to end polio. To sustain progress, and to protect all children from polio, Rotary has committed to raising $50 million per year over the next three years in support of global polio eradication efforts. In addition, The Bill & Melinda Gates Foundation will match Rotary's commitment 2:1. Without full funding and political commitment, the possibility remains that polio will return to previously polio-free countries.
The Waynesboro Rotarians brought bagged lunches and donated the cost of their regular meal, more than $1,000 total, to eradicate polio.
"Let's end polio now by giving it this one final push," said Achampong. "Because, after all, we are this close."
To find out more go to endpolio.org or to make your donation go to endpolio.org/donate.