Penn State Mont Alto forestry students climb 145-foot yellow poplar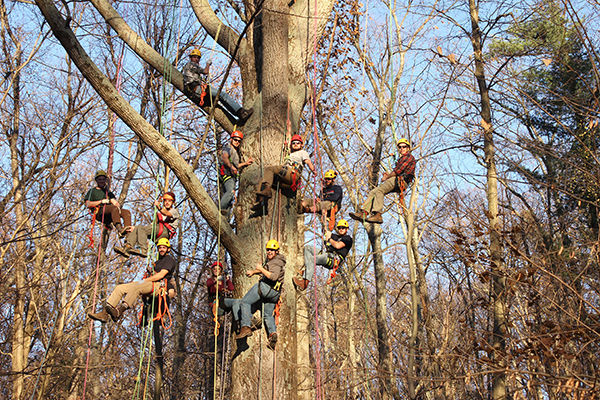 MONT ALTO, Pa. — On Nov. 29, a dozen forestry students ended their fall term arboriculture class by climbing a 145-foot yellow-poplar on the Mont Alto campus.
The exercise is a 25-year tradition, according to Forest Technology Instructor Craig Houghton, who teaches the arboriculture class.
"The climb culminates 15 weeks of students learning to safely and efficiently climb trees so they can properly care for them," he said.
Two Mont Alto alumni and Cumberland Valley Tree Services-Landscape staff members assisted with the climb, Aaron Feather, a 2005 graduate, and Evan Brumfield, a 2015 graduate.
Houghton, who each year takes this opportunity for an annual class photograph, says he estimates the age of the tree to be over 100 years old.
"At 53 inches in diameter and 145 feet tall, it is a big one," he said. "In fact, it's one of the tallest in the state according to the Big Trees of Pennsylvania Register."
Forest Technology students have the opportunity to learn in the outside classroom of the Penn State Mont Alto Arboretum. Established in 1903, it is a living, historic collection that contains over 1,000 trees representing 29 families, 70 genera and 174 species.
It was a beautiful day to "hang out" for a class picture. See more photos of the Big Climb here.