Wide array of activities to celebrate diversity at Penn State Mont Alto, March 19-24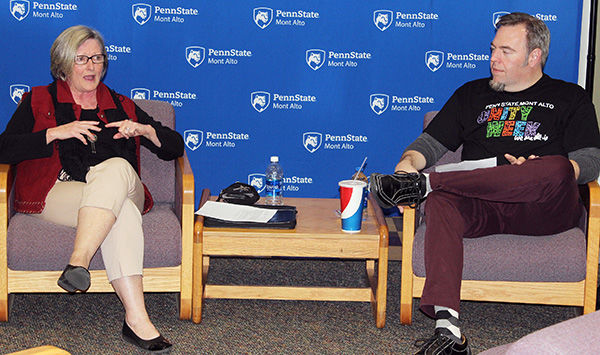 MONT ALTO, Pa. ― A Campus Symposium entitled "Why Are We so Divided?" kicked off Penn State Mont Alto's Unity Week on Monday, March 19 at noon with a discussion about what divides us as a nation and how we can work together to overcome it.
"Unity Week supports Penn State's 'All In' principles which promotes inclusion, encourages civil discourse, and challenges all perspectives," said Penn State Mont Alto Director of Student Affairs Curtis Hoover.
During Unity Week, March 19-24, a wide array of activities including classes, speakers, performances, and a daily offering of cultural cuisine is being featured in Mont Alto's dining hall, The Mill. All are meant to inspire not only the campus community but also the broader community to take an active role in promoting respect and embracing diversity. Participants can attend the activities at no charge. To see a full listing of activities visit montalto.psu.edu/information/diversity/unityweek.
Discussion during the Symposium centered on the ways we are divided as a nation and how we can ― both as individuals and a community ― become more united for the greater good.
Hoover served as a panelist during the symposium as well as Donna Brightman, past president of both the Washington County Board of Education and the Maryland Association of Boards of Education. Leading the discussion was Kira Hamman, Mont Alto lecturer in mathematics and director of the Penn State Mont Alto Honors Program.
Brightman and Hoover opened with a discussion about the explanations for increased divisiveness. Some included people being less communal, isolating themselves through the use of social media, a lack of understanding and confusion about the facts of issues, and a change in the way news is being reported.
"I cannot think of a time in my life when we have been more divided," said Hoover. "We are contemptuous of others' positions due to a lack of understanding and communications."
Brightman said individuals, today, are not interested in learning why others think differently. "If we disagree on an issue, I lose them the minute they hear the word 'but.' If I don't believe the same way they do, they are critical of me," she said.
The solution is to find a safe place to discuss the deeper meaning of issues, said Brightman. "When families realize, it's 'my friend, my daughter, my mother,' we can understand it better."
Hoover agrees. "If you can get the students to talk through an issue, that is where you can get some success."
He said it is also important for individuals to identify their own prejudices. "If we can't identify our own prejudices, we will never move past them."
Brightman said we should also teach our children to have 'courageous conversations.' "We all tend to go to our comfort zones."
An audience member wondered if there are any benefits to the discourse. "Is there any benefit as far as change? It must be serving a function. Maybe this discourse will create change we can rally around and bring us up to a better place," she said.
Some politicians are indeed looking at the discourse as an opportunity, said Brightman. "It is helping us understand the falsehood of complacency … to reset the conversation to find common points again," she said.
Hamman pointed to subsets of the discourse such as Black Lives Matter and the Me Too movement. "There was a tipping point and we are not going to return to the old common ground. We will find a new common ground but that is scary if you are one who was served by the old common ground," she said.
"Outside of the U.S. people are looking at our conversations and wondering what is going on in the U.S.," said Hoover.
"We have to do better," said Hamman. "It is worth looking at what we are doing in our country, but it is really hard. It is not easy."
In closing, she issued a challenge to the audience: "This week, go to someone who has a different opinion about something than you do. Ask them to describe why they believe the way they do. Listen carefully to them and then repeat to them what they have said to you."
Penn State Mont Alto students who attend at least five Unity Week events are eligible to win one of six $50 gift cards. To be entered into a drawing, students can pick up a Unity Week Passport at any event, get them signed, and drop them off at the Campus Life Office by 5 p.m. on Monday, March 26.