Penn State Mont Alto recognizes and honors winners during awards ceremony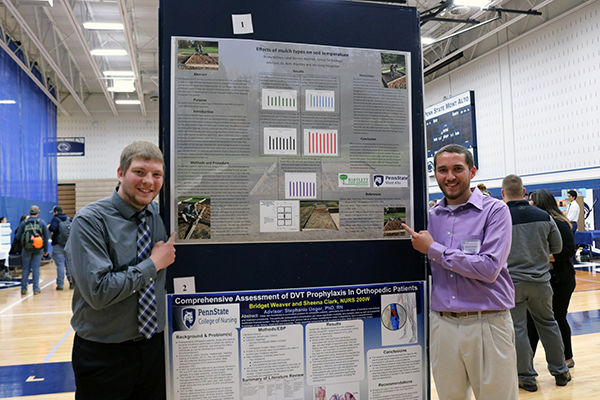 MONT ALTO, PA.― More than 100 Penn State Mont Alto students presented and displayed their best academic and artistic work during the Thirteenth Annual Penn State Mont Alto Academic Festival on April 20, 2018. Posters and oral presentations were presented in the Multipurpose Activities Center (MAC) and artwork was displayed in the Library.
Following the festival, winners were announced and recognized during an awards ceremony in the General Studies Building Auditorium.
Exhibits
First: The Benefits of Rehabilitation with Physical Therapy on Multiple Sclerosis, Courtney Stump
Second (tie): Living with Early-Onset Alzheimer's, Marley Billman; Depression: "I'm Fine," Brianna Uglow, Meagan Wardle
Third Place: Chesapeake Bay, Rising from the Dead, Savannah Dymond
Research Posters
First: Polypharmacy in the Older Adult and How It Impacts Quality of Life and Mortality, Grayson Whistler
Second (tie): Effects of Mulch Types on Soil Temperatures, Derrick Wenrick, Brady Williams; Examining the Effectiveness of Position Sensory Alarms, Hannah Stoey
Third (tie): Breast Milk Versus Formula: Does It Affect Cognitive Development? Jordan Fogelsonger, Kristy McFerren; Nature vs. Machine, Misael Carlos Vera, Rainmar Leguarda, Jacqueline Paige Ferrell, Sierra Lynn Cornelius
Presentations
First: Analysis of the Key Components of a Well-functioning Health System, Grayson Whisler
Second: The Effects of the Temporary Protection Status, Melizza Zavala Duran
Third: Water Quality Monitoring, Steven Hanaway, Wyatt Chilcote
Library Information Literacy Awards
Examining the Effectiveness of Position Sensory Alarms, Hannah Stoey
Early Identification and Treatment of Malnutrition in Patients Diagnosed with Lung Cancer, William Myers
Art Show
First: Alyssa Welfer, "Streets of India"
Second: Nathan Hill, "Skull through Haze"
Third (tie): Johnathan Sirk, "Betsey Ross Flag;" Dorian Stalnaker, "Quiet Home"
Honorable Mention
Alyssa Welfer, "Alyssa in the Light"
Ahmed Radwan, "Poverty, Grey in a Colorful World"
Allie Wilson, "Tropical Sunset"
Dorian Stalnaker, "Dermatillomania"
Terri Rothenberger, "Cleanliness is Next to Godliness"
Dorian Stalnaker, "Purple Pup"
Alyssa Welfer, "Eye Contact"