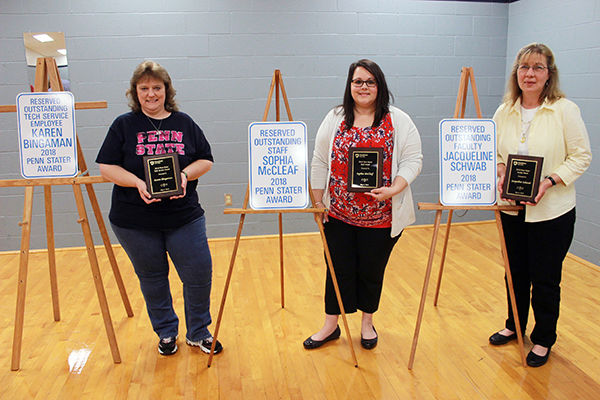 MONT ALTO, Pa. ― Chancellor Francis K. Achampong thanked and recognized Penn State Mont Alto faculty and staff for their hard work and dedication on May 4 during the annual End-of-Year Luncheon and Awards Ceremony in the Multipurpose Activities Center (MAC). More photos of the event are
available
.
"We did it again!" he said. "We accomplished a lot this year. Thank you for another successful academic year."
Following the luncheon, several awards were presented:
Length of service awards (full time years of service at Penn State)
30 years
Linda Monn, campus registrar
25 Years
Lauraine Hawkins, Letters, Arts and Sciences Baccalaureate Program coordinator and assistant professor in biology
20 Years
Elizabeth Brantley, associate teaching professor in forest technolgy
Curtis Wengert, Housing and Food Services manager
15 Years
Carranda Barkdoll, Nursing Program coordinator and assistant teaching professor
Debra Ferguson, Admissions administrative assistant
Ronald Harshman, Building and Operations heating and ventilation technician
Bradley Kendall, Maintenance and Operations supervisor
10 Years
Somjit Barat, Baccalaureate Business Program associate professor
Kira Hamman, Honors Program director and lecturer in mathematics
Cherrie Koons, Housing and Food Services food preparer
Joshua Sweetser, Building Operations maintenance worker
Shelley Yurkovich, Building Operations maintenance worker
Retiring and years of service
Linda Monn, campus registrar (30)
Cathy Sullivan, Housing and Food Services residence utility worker (23)
PIE (Partnership, Impact, Excellence): Faculty and Staff Collaboration Award ― The 2014-2018 Strategic Plan calls for strengthening internal relationships through increased collaboration among faculty, staff, students, and alumni, and for recognizing faculty and staff collaborative efforts. This year, there was a tie:
2017 Cumberland Valley Women's Conference "Living Life to Its Fullest"― Alice Royer, assistant teaching professor in English and women's studies, served as the conference chair and many other individuals from across the campus contributed their time and expertise, including: Carranda Barkdoll, Nursing Program coordinator and assistant teaching professor; Brandi Biesecker, development assistant; Amy Cody, Bookstore manager; Debra Collins, director of public relations and marketing; Cheryl Deal, Asssociate Occupational Therapy Assistant Program lecturer; Anne Devney, Nursing Program assistant teaching professor; Terri Doss, Development administrative assistant; Sherry Goertz, assistant professor in nursing; Staci Grimes, campus web and digital signage coordinator; Olivia Hammond, Associate Occupational Therapy Assistant Program fieldwork coordinator and lecturer; Angela Hissong, Associate Occupational Therapy Assistant Program professor-in-charge and associate teaching professor; Pam Kauffman, Academic Affairs affiliation agreement assistant and Public Relations and Marketing administrative assistant; Bradley Kendall, Maintenance and Operations supervisor; Roxann Miller, Continuing Education program coordinator; Rose Ray, Building Operations maintenance worker; Kelly Sprinkle, lecturer in kinesiology; and Eileen Strausner, Nursing Program administrative assistant.
On October 21, 2017, Penn State Mont Alto hosted the 25th Annual Cumberland Valley Women's Conference in conjunction with the Occupational Therapy Program. The conference offered a keynote address by Dr. Corinne Caldwell, campus executive officer at Mont Alto from 1987 to 1996; 20 workshops within three sessions; over 40 exhibitors; and many giveaways and quality door prizes. Most of all it drew over 200 participants from the community and the campus to meet, talk, learn, and laugh all within the theme of women's health.
From Passion to Profession: Sports Industry Career Panel ― Ronnie Tucker, Academic Support Center academic coach; Sophia McCleaf, Division of Undergraduate Studies coordinator; Patty Gochenauer, Career Services counselor.
The purpose of this program was to highlight the variety of career paths available within the sports industry. This was a collaborative effort between the Academic Support Center, Division of Undergraduate Studies, and Career Services. These departments worked together to organize a panel discussion combined with a networking reception. All students were invited to attend this program. Panelists included representatives from the Baltimore Ravens, Penn State Mont Alto Athletics, Chambersburg Area School District, Shippensburg University, and Pennsylvania State Athletic Conference (PSAC). This program engaged Penn State alumni and community partners, who served as panelists. Panelists shared information on their academic backgrounds, their career paths, and how they got to their current positions. Discussion points included personal career path, typical career path (realistic entry-level starting point within the company), hurdles and challenges faced within the profession; and importance of continuing education/lifelong learning. Following the panel discussion, attendees were invited to stay for networking with the panelists.
Sustainability Award ― Marla Minnich, Academic Support Center student advocacy specialist. The Mont Alto campus' strategic plan includes as one of its goals strengthening our commitment to sustainability by learning about sustainability, living out our commitment to sustainability, and leading in the area of sustainability. "Marla has been intrinsically motivated to be excellent, to do good, to care for students, and to manage resources responsibly." She championed several programs that have aided students with need to stay in school and to stay focused, such as helping to establish a food closet at Mont Alto and collecting used office and school supplies and redistributing them to students in need."
Chancellor's Giraffe Award ― Kira Hamman, Honors Program director and lecturer in mathematics. This award was created to recognize people who stick their necks out and do something above and beyond their normal duties that advances the campus and makes it a better place. Hamman received the award for her "engagement and leadership on many fronts," such as planning MADE; coordinating Campus Symposiums; bringing the "Building Bridges," Family Diversity Project exhibit to campus; and engaging students in the Honors Program.
Penn Stater Awards ― "To annually recognize outstanding service by Mont Alto staff, faculty, and tech service employees."
Penn Stater Tech Service: Karen Bingaman, Building Operations maintenance worker. "Karen is a shining example of caring and positivity, her wonderful attitude affects the whole team. She comes to work every day knowing she will make a difference, and she lifts the spirits of those around her.
Penn Stater Staff: Sophia McLeaf, Division of Undergraduate Studies coordinator. Sophia was honored for her dedication to the students and Penn State Mont Alto including: stepping up when short-staffed in DUS, coordinating and collaborating with others to ensure comprehensive and organized new Student Orientations (NSO), serving on campus committees, and helping to coordinate professional development opportunities throughout the year for support staff.
Faculty Penn Stater: Jackie Schwab, HDFS associate professor and Associate HDFS Program coordinator. "Jackie works tirelessly to support the University at all levels, from New Student Orientation advising to leading promotion and tenure committees at the campus and college. She is a leader within the HDFS department both on campus and across the University College. She constantly strives to help others do their best work, mentoring new faculty and those further along on their careers. She is an active participant in the National Council on Family Relations…She is extremely sensitive to the needs of her students and goes out of her way to work with those who have many family and work commitments…Jackie is disciplinary coordinator and oversees over 50 faculty from multiple campuses and disciplines."
Martha Fisher Award for Excellence in Teaching (full-time) ― Daniel Dandy, Associate Physical Therapist Assistant Program assistant teaching professor and academic coordinator of clinical education.
Student Government Association (SGA) for Excellence in Advising ― Robin Yaure, HDFS Program and Psychology Program coordinator and associate teaching professor in HDFS.
Faculty Scholar Award ― David Seitz, associate professor in communications.
Campus Builder Awards ― Presented by Randall Ackerman, director of campus development. "To recognize and reward a campus citizen who goes beyond doing their job well. … Builders are imaginative, creative individuals who work to build a better campus community. Their actions are not undertaken for professional advancement, nor are they isolated events, instead they form a pattern of selfless behavior that benefits the Mont Alto campus community time after time."
Bradley Kendall, supervisor of maintenance and operations. Kendall was honored for his "constant attention to the many diverse demands of the campus" and contribution to the Arboretum Advisory Council and the Sustainability and Campus Facilities Committees. "We are all in debt to this winner and the staff of professionals he supervises. The beauty of the Mont Alto Campus rests with him and his team. The workability of our offices and classrooms is frequently in their hands."
Linda Monn, campus registrar. "An accomplished administrator…with an incredible eye for detail…Taking on big tasks is her hallmark…We are all indebted to her for her dedication."
Promotions (effective July 1) ― Jim Donovan to professor of history, Kimberly Herrmann to associate professor in physics, Craig Houghton to assistant teaching professor in forest technology; Kira Hamman to assistant teaching professor in mathematics; and Kendra Wolgast to assistant teaching professor.