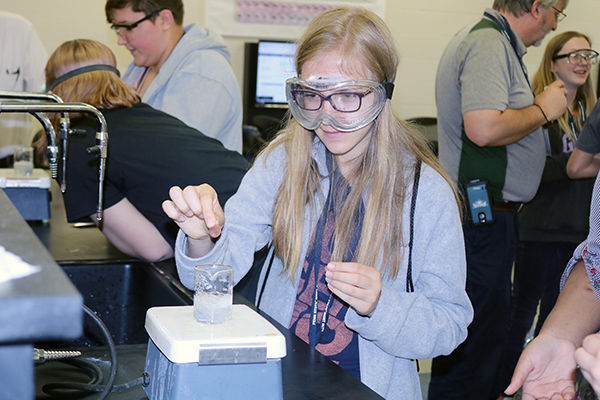 MONT ALTO, Pa. — James Buchanan eighth-grader Kirstyn Atherton could not imagine using the words "fun" and "mathematics" in the same sentence.
But Penn State Mont Alto Assistant Teaching Professor in Mathematics Kira Hamman changed all that when 40 James Buchanan Middle School students visited the college campus for a day of STEM (science, technology, engineering and mathematics) exploration on May 16.
Hamman's encryption session kept the students guessing as they used concepts of math to create secret codes.
"I liked the math because it was the most challenging," said Kirstyn. "Kira made it fun working with numbers to create 'secret words' that our classmates had to figure out."
This was the fourth year that seventh- and eighth-grade students from JBMS visited Penn State Mont Alto for a daylong STEM experience.
"This annual field trip is a wonderful opportunity to spend a day immersed in fun, educational STEM activities taught by Penn State faculty," said Robert Wareham, JBMS STEM teacher.
In addition to math, students used engineering principles to design and build a freestanding tower (using paperclips and straws), turned a copper penny into "silver" and then "gold" using chemistry, and learned about the process of fermentation from biology faculty.
Tuscarora School District's Curriculum Director Richard Burkett, who was one of the chaperones for the trip, said the Pennsylvania Department of Education has placed a significant emphasis on STEM education.
In the next decade, seven out of ten jobs in Pennsylvania are going to require workers to use computers and new technologies, according to Gov. Tom Wolf.
"Visiting Penn State Mont Alto gave the students a collegiate experience: what a great opportunity for kids to hear directly from college professors," Burkett said.
He continued, "Our kids were treated like VIPs in their learning experience. The students get to see people who are professionals in the (STEM) field who are excited about that field."
The day at Penn State helped reinforce and affirm what the students are being taught in school, he said.
It was the hands-on element that eighth-grader Natalie Lippy liked best.
"I've enjoyed everything. I came last year, but I really wanted to come back because I learned so much the first time by doing things by myself," said Lippy.