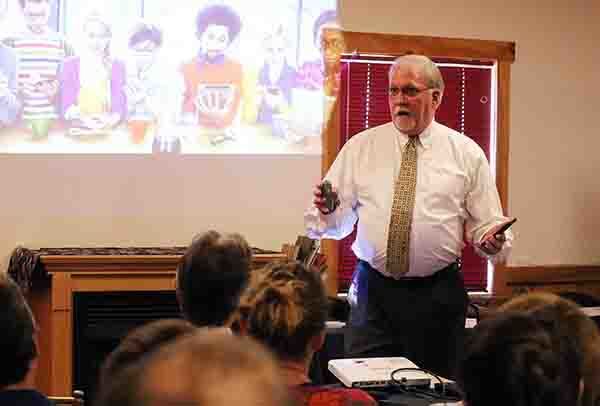 MONT ALTO, Pa. ― About 40 Penn State Mont Alto faculty and staff met to share and discuss ways to recognize student learning roadblocks and how best to overcome them during Mont Alto's second annual faculty conference on June 8 at the nearby Adams County Winery in Orrtanna.
Keynote speaker Rob Caples, visiting assistant professor in educational technology and literacy at Towson University, set the tone for the day's topic in his presentation, "Roadblocks to Learning as Opportunities for Teaching."
"We now have 21st-century learners and instructors must use different techniques to teach them," he said.
Caples described students today as being technology dependent, technology stressed, and overloaded with technology due to social media engagement and the overwhelming selection of apps.
"As the technology has improved, so have the roadblocks," said Caples. "How do we turn this into an opportunity?" he asked. "We cannot escape technology because we have 21st- century learners."
Caples offered the faculty a few solutions to learning roadblocks, such as incorporating instructional technology into their course syllabi using International Society for Technology in Education (ISTE) standards. ISTE, a nonprofit organization that supports education, has developed instructional technology standards for educators to include in their lesson and curriculum planning.
He also recommended faculty use apps that align with their course activities and provided Allan Carrington's pedagogy wheel as a resource. The wheel is an at-hand reference that provides a selection of apps that tie to specific learning outcomes instructors can use for their fields of teaching.
Six other presentations allowed Penn State Mont Alto faculty members to share their roadblocks to learning and solutions on a variety of topics. Lunch was provided and the group was invited to attend an optional social gathering at the end of the day.
The conference was sponsored by the Office of the Chancellor and was coordinated by faculty members Renee Borromeo, director and associate teaching professor of the Associate Physical Therapist Assistant Program, and Dan Dandy, academic coordinator of clinical education for the Physical Therapist Assistant Program.