Penn State Mont Alto hosts its third annual STEM Camp for ninth- and tenth-graders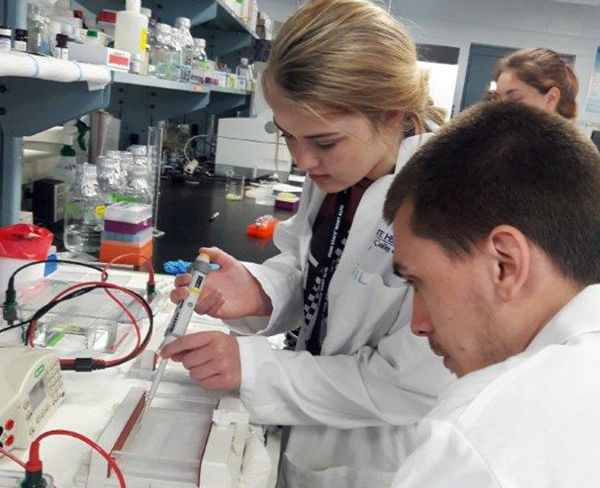 MONT ALTO, Pa. — Penn State Mont Alto hosted its third annual STEM Camp to rave reviews from the ninth- and tenth-grade campers who attended the weeklong day camp.
"It is a fantastic experience. It really takes what you learned in school about STEM to the next level," said Isaac Kipe, of Shippensburg, Pennsylvania.
Kipe will be starting ninth grade in the fall and is confident that his future career will be in the STEM field. He said his experience at the University's camp helped him narrow down his focus.
"I'm thinking fundamental physics, quantum mechanics — that sort of thing," said Kipe, with confidence in his voice.
"Spending a week of my summer break at this camp was an invaluable experience. I'm so glad I came," he added.
This year's STEM (science, technology, engineering and mathematics) Camp was held from 9 a.m. to 4 p.m. Monday, July 9, through Friday, July 13, at Penn State Mont Alto.
The "home base" for the camp was Penn State Mont Alto, and students were also transported to two field trip locations.
Youths visited the state-of-the art Central Pennsylvania Research and Teaching Laboratory for Biofuels at Penn State Harrisburg to learn about high-tech DNA profiling techniques. Campers also traveled to Manitowoc, of Shady Grove, Pennsylvania, to learn about engineering from the company's world-class engineers.
"This is an exciting and unique opportunity for students to expand their knowledge of science and technology by working with Penn State faculty in a hands-on learning environment, as well as professionals in the field," said Helen McGarry, camp director.
These fields continue to grow and offer excellent career opportunities for the foreseeable future, she said.
"There were 8.6 million STEM jobs in 2015 alone, and that number continues to grow. The future points to STEM careers, and this camp gives students a glimpse into what their future could hold for them," McGarry said.
During the weeklong day camp, participants challenged other teams in Lego Mindstorms EV3 robotics competitions; delved into the world of chemistry; tested their flying skills with Quad Copter X5 drones; applied engineering principals to design a weight-bearing virtual bridge; used block programming; and much more.
Jennifer Hess of Shade Gap, Pennsylvania, already has her career path mapped out. Spending part of her summer break at STEM Camp confirmed that she's heading in the right direction.
"I wanted to attend camp just to experience new things in science and technology and to make sure that STEM was the right field for me," she said.
She plans to attend Penn State's RN to BSN program, and then pursue a master's in genetics and DNA sequencing, as well as a doctoral degree.
Of course, her favorite camp session was the trip to the DNA lab at Penn State Harrisburg where she soaked up as much information as possible on state-of-the-art DNA profiling.
"This camp is fun, and you learn a lot of things you didn't know," she said.
Hess said camp took the STEM knowledge she gained in her school curriculum and expanded on it in new environments with practical applications.
"Penn State's camp is very hands-on — which is the best kind of learning, if you ask me," Hess said.
Like Hess, Cheylene Graham of Newville, Pennsylvania, was right at home learning about the latest DNA techniques.
"This camp has been very fun. You learn different things, but you also get a chance to interact with a lot of different people — you make new friends," she said.
For her, visiting the DNA lab confirmed what she knew before, that she wants to go into the field of forensics.
Saketh Gopu traveled about an hour each day from Mechanicsburg, Pennsylvania, to attend camp. However, he said the time commitment was well worth the experience.
"I'm interested in robotics and engineering, and this camp really helped me narrow down my STEM interests," he said. "This really took my STEM learning to the next level."
Like his fellow campers, another camp benefit was making friends with other tech-savvy teens.
"It's really fun and you get to explore a lot of new things — and make a lot of new friends," Gopu said.
STEM Camp 2019 will be held July 8-12 .