New students receive welcoming words, encouragement and advice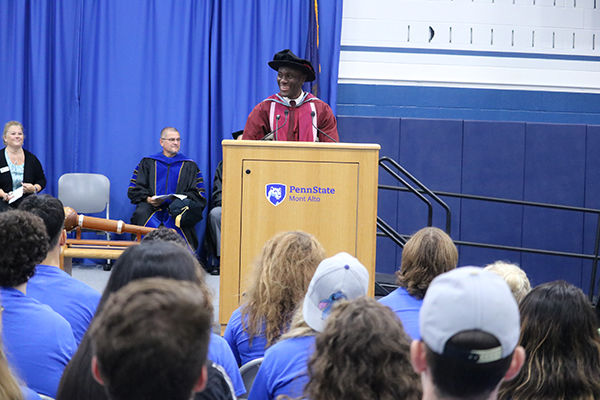 MONT ALTO, Pa. — On Aug. 18, Penn State Mont Alto's Multipurpose Activities Center was a hub of activity with flowing academic regalia and welcoming words of advice and encouragement for this year's incoming class.
Student Government President and nursing student Andrea Bonilla Peña, class of 2021, welcomed the new students and charged them with being engaged.
"I encourage all of you to get involved, reach out, challenge yourself … Think about what you want and do it. Be the impact, be the leader and find out what it really means to be Penn State proud."
Engineering student Jonathan Parsons, class of 2021, opened and closed the ceremony by leading the audience in the singing of the "National Anthem" and the "Penn State Alma Mater."
Diane Chamberlin, director of enrollment management, said it was her privilege to present the new class.
"A Penn State degree will open doors to new and exciting experiences throughout your life," she said, and noted that members of the class are a melding pot of diversity having come from all lifestyles and family heritages.
"You come from California, Georgia, Massachusetts, Maryland, New Jersey, Virginia, Texas, West Virginia, Pennsylvania and Korea. Seventy-two of you are the first in your family to attend college, 24 are adult learners, and 14 of you are either active military or are veterans of our armed forces," she said.
Chancellor Francis K. Achampong invited the students to learn and incorporate the Penn State and Mont Alto Campus values into their lives during their time as students. They include integrity, respect, responsibility, discovery, excellence and community.
"We value a community where everyone feels valued," he said. "I encourage you to honor these values and put them into practice. If you do, you will look back and realize this as one of the best times you ever had while you are here."
As the faculty member who received the 2017-18 Martha Fisher Award for Excellence in Teaching, Daniel Dandy, assistant teaching professor in the Physical Therapist Assistant Program, shared some words of encouragement with members of the incoming class and then introduced the Mont Alto faculty.
Dandy stressed the importance of making the right choices.
"Your future is not up to chance; it is up to you and your choices. And you will have the collective support and wisdom of Penn State's finest staff, students and faculty to help guide you with your choices. You never need to leave your future up to chance. It is up to you," he said. "Choices not chance!"
Michael Doncheski, chief academic officer, referenced this year's New Student Welcome theme, "Create Your Penn State U," by asking the students to "Create Your Penn State Y-O-U!"
"We all have many hats. Now you have a Penn State Mont Alto hat and a Penn State hat," he said. "Wear those proudly," to reflect honorably on all those who have gone before. You have time now to also add some bling to that hat. So, get involved. Make it a bright and glorious hat and make it a representative of Your Penn State YOU!"