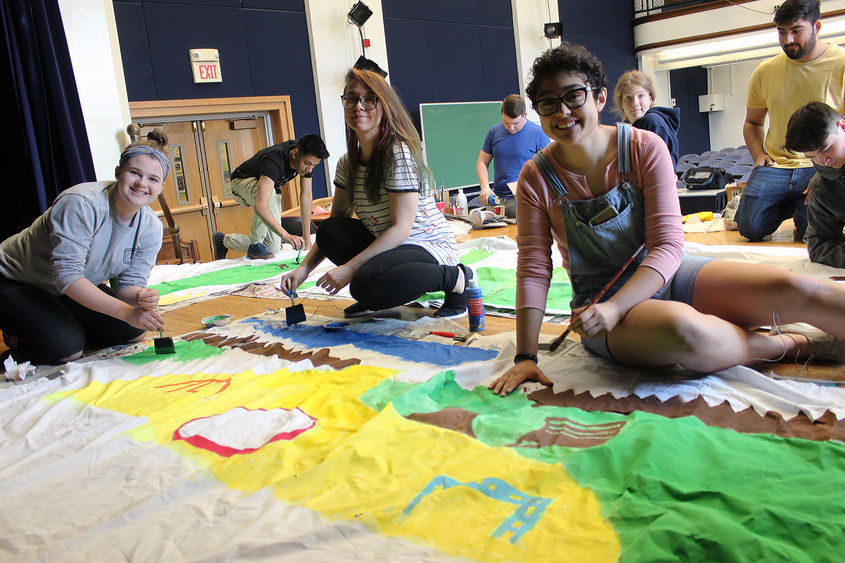 MONT ALTO, Pa. – On April 24, Penn State Mont Alto theater students will perform an educational puppet show for preschool-aged children, 3- to 5-years-old, about dog safety, recycling and bullying. The show will be presented from 4 to 4:30 p.m. at the Chambersburg Memorial YMCA located at 570 East McKinley Street in Chambersburg, Pennsylvania. It is open to the public and free of charge.
"The puppet show and skits are original and educational," according to Penn State Mont Alto Assistant Professor of Integrative Arts Nancy Funk. "The students not only wrote the scripts, they also made the sock puppets and painted bed sheets as backdrops for the physical puppet theater."
The show is part of Funk's Process of Acting class and gives students the opportunity "to explore their physical, vocal, and emotional capabilities," she said. It is also a way for the students to engage in community service.
"This class and the puppet show have greatly encouraged me to help more in my community and I had a ton of fun," said nursing student Jordan Foreman of Chambersburg.
"The puppet show is an amazing opportunity to get involved in the community and build team working skills," said Health Policy and Administration major Alexis Talpas of Abbottstown, who also served as stage manager for the show.
"I had so much fun planning the puppet show," said Blair Noel of Littlestown, who is studying physical therapy. "I can't wait until we get to present to the children!"
The show is sponsored by a Penn State General Education Microgrant Award.
For more information, contact Debra Collins, director of public relations and marketing, at [email protected] or 717-749-6112.