Courtney Stump receives recognition for exemplary work as physical therapist assistant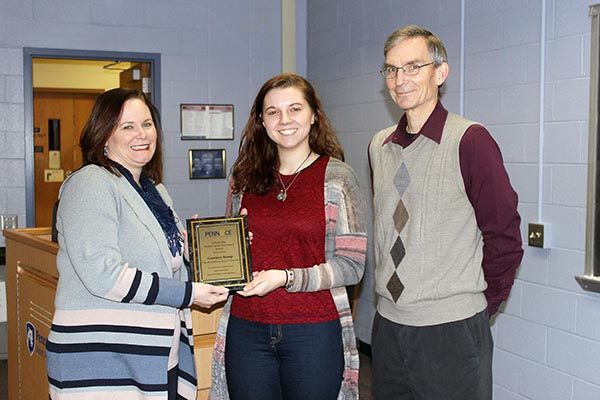 MONT ALTO, Pa. — In February 2019, Penn State Mont Alto student Courtney Stump of Chambersburg, Pennsylvania, received the Pennsylvania Associate of Colleges and Employers (PennACE) JoAnne Day Student of the Year Award in the associate degree category. The award was given for her exemplary work performance as a physical therapist assistant (PTA) intern at Chambersburg's Innovative Rehab Associates during summer 2018. Stump is the first Mont Alto student to receive this honor.
"Courtney was able to multitask, address each patient based on their personality and culture, juggle multiple patients, and remain pleasant and calm," according her supervisor Sherry Rickman.
Stump's efforts for her patients at Innovative Rehab Associates went above and beyond. While there, she treated a patient who, prior to his stroke, loved dancing and playing pickle ball with his wife, according to Rickman.
"Courtney was taught how to dance by the patient and played ball in the clinic with him in an effort to promote his balance and gain more confidence with the hope that he would resume activities he and his wife loved," she said.
Moreover, Stump continued to work with the patient after her clinical rotation ended, to see him through to his discharge.
"For some students, we need to use all sorts of metaphors to explain PTA's core values that include accountability, altruism, compassion and caring, excellence, integrity, professional duty and social responsibility," said Stump's faculty adviser, Penn State Mont Alto Assistant Teaching Professor Dan Dandy. "For others such as Courtney, they just inherently live them," he said.
"During Courtney's final clinical experience, I came to learn of something very special from her clinical instructor," said Dandy. "One of her former patients, who had numerous disabilities, relied on her ability to sell baked goods that she would prepare in her home, but her impairments were such that she could not stand to wash dishes. To meet her financial needs, the patient needed a dishwasher but couldn't afford one. The situation was remedied when, after completing her affiliations for the summer, Courtney returned to the clinic with a dishwasher she had purchased for the patient."
"No fanfare, no strings attached, just an act of altruism from an individual who is determined to improve the lives of those she encounters," said Dandy.
According to Stump, the Innovative Rehab Associates internship helped her gain a sense of self as a physical therapist clinician. It also has shaped her future.
"I know now that I am pursuing the right career for me and plan to continue my education to receive a doctorate in physical therapy," she said.
Since the PTA program began in 1981, it has graduated about 20 PTAs a year. To date, more than 650 students have graduated from Penn State Mont Alto's Physical Therapist Assistant program.
PennACE recognizes the achievements and contributions made by undergraduate students enrolled at member institutions who have completed an internship or co-op with the JoAnne Day Student of the Year Awards.The late JoAnne Day was a career services professional who served "with a passion for her craft and an incomparable commitment to her students," according to the PennACE website at https://www.pennace.info/home.