Campus community gathers to recognize and celebrate outstanding service and achievement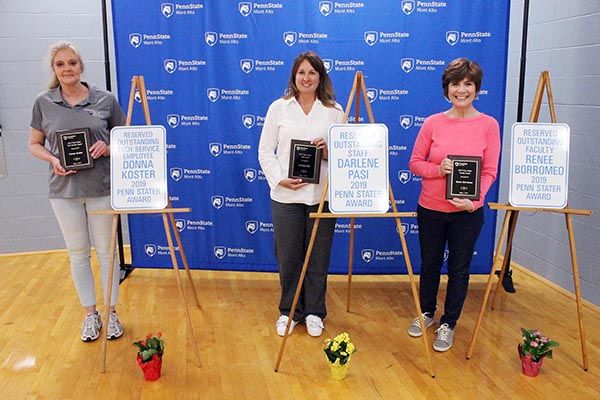 MONT ALTO, Pa. — Chancellor Francis K. Achampong thanked and recognized Penn State Mont Alto faculty and staff for their hard work and dedication on May 3 during the annual End-of-Year Luncheon and Awards Ceremony in the Multipurpose Activities Center (MAC).
View photos of the event at https://www.flickr.com/photos/psuma/albums/72157708387119894.
"Thank you for your hard work and commitment throughout the year," said Achampong. "Today, we pause to celebrate our collective work and recognize colleagues who have achieved milestones or have been selected to receive awards."
Following the luncheon, several awards were presented:
Announcement of Promotions (effective July 1, 2019)
Renee Borromeo, Physical Therapist Program director and associate teaching professor, promoted to teaching professor
Angie Hissong, Occupational Therapy Assistant Program professor-in-charge and associate teaching professor, promoted to teaching professor
Jacob Moore, assistant professor in engineering, tenured and promoted to associate professor
Linghao Zhong, Academic Affairs assistant director and associate professor in chemistry, promoted to professor
Announcement of University Award
University College Service Award for the 2018-2019 Academic Year: Renee Borromeo. physical therapist assistant director and associate teaching professor. "Renee is active and engaged on campus, in the college (as the Physical Therapist Assistant Program professor-in-charge) and as a senator in the University Faculty Senate. The college couldn't have picked a more deserving person for this service award."
Departure
Beth Brantley, associate teaching professor in forestry (June 30) will join Bartlett Tree Experts after 22 years of dedicated service to Penn State Mont Alto.
Retiring and Years of Service
Sherry Goertz, associate professor of teaching in nursing, 25 years
Bill Rock, building operations maintenance worker, 33 years
New Employee
Shaun Beaver, building operations custodial supervisor (Oct. 1, 2018)
Awards
PIE (Partnership, Impact, Excellence) — Faculty and Staff Collaboration Award, recognizes an innovative, significant, and impactful faculty/staff collaborative endeavor.
Unity Week – For the second year, Student Affairs Director Curtis Hoover orchestrated Unity Week, which was a new initiative for the Penn State Mont Alto campus. Unity Week's main objective is to promote Penn State's commitment to diversity and inclusion by promoting the "All In" initiative, which seeks to 1) Promote Inclusion; 2) Encourage Civil Discourse; and 3) Challenge All Perspectives. Open classes were offered by many faculty members with a Student Affairs team member starting off each class by promoting Unity Week and the "All In" initiative by quizzing students on those initiatives, bringing awareness to the allin.psu.edu website, and presenting a Unity Week T-shirt to all those giving the correct answer or engaging in interactive conversation regarding Unity Week. There were other activities outside the classroom as well that brought students together in a less formal, relaxed atmosphere and encouraged them to spend time with others with whom they may not otherwise spend time interacting.
Staff/Faculty
Somjit Barat, business associate professor in business
Nancy Funk, assistant professor in integrated arts
Lisa DeGregorio, Student Affairs administrative assistant
Susan Graf, English professor
Kira Hamman, assistant teaching professor in mathematics
Angela Hissong, occupational therapy professor-in-charge and assistant teaching professor
Curtis Hoover, Student Affairs director
Donna Rhodes, student activities coordinator
Iris Richardson, Student Affairs associate director
Alice Royer, English and women's studies assistant teaching professor
Jacob Sawyer, assistant professor in psychology
Barret Scroggs, assistant professor in human development and family studies
Athan Spanos, Penn State Harrisburg Housing and Food Service chef manager
Mary Jo Stevenson, campus life administrative assistant
Curt Wengert, Housing and Food Service manager
Robin Yaure, Human Development and Family Studies Program coordinator and professor of teaching
Student Clubs
Allies
Alternative Spring Break
Campus Activities and Multicultural Programming
Student Government Association
Sustainability Award — The Mont Alto campus' strategic plan includes as one of its goals strengthening our commitment to sustainability by learning about sustainability, living out our commitment to sustainability, and leading in the area of sustainability.
Staci Grimes, Public Relations and Marketing campus web and digital signage coordinator. "Staci has been the champion of sustainability. This year, she has co-chaired the Sustainability Committee and moved it forward with activities, organized meetings, guest speakers on campus, collaborative efforts, and reporting on progress on our sustainability goal at Policy and Planning. She has maintained a sustainability theme in digital signage and has increased awareness across the campus. The campus appreciates all that she has done and is doing to make Penn State Mont Alto a greener place."
Chancellor's Giraffe Award — This award was created to recognize people who stick their necks out and do something above and beyond their normal duties that advances the campus and makes it a better place.
Renee Borromeo, PTA program director and associate teaching professor and Dan Dandy, PTA assistant teaching professor and academic coordinator of clinical education – "A dynamic duo who for three years running have stuck their necks out and organized a conference that has brought many faculty and staff together to share ideas that further student success. Themes have included best practices in the pedagogy of student engagement; removing roadblocks to student learning; and connecting students to people, places, and ideas."
Penn Stater Awards — To recognize outstanding service by Mont Alto staff, faculty, and tech service employees annually.
Penn Stater Tech: Donna Koster, building operations maintenance worker. One of Donna's nominators said: "When Donna is given a task she willingly takes on that task to completion to the best of her ability. She is a perfectionist who arrives at work every day ready to do her job in the three buildings that she maintains. She treats every person on this campus equally as should we all. Donna is always willing to encourage a student or just listen. She is a true asset."
Penn Stater Staff: Darlene Pasi, campus counselor. "Darlene comes to work every day with the most positive attitude, a contagious enthusiasm and outlook, and energy. She not only attends required conferences to maintain her professional license, she also attends national conferences to stay current on professional counseling, drug, alcohol, and related issues. She's been the constant morale builder in her department. She is always positive, encourages her co-workers, and is always eager to lend a helping hand. Darlene is an invaluable asset to the Student Affairs team as well as the campus. She is an example of dedication, fortitude, and hard work, and is an inspiration to many."
Penn Stater Faculty: Renee Borromeo, physical therapist assistant director and associate teaching professor. "Renee is involved in all aspects of the PTA Program – both the Mont Alto Campus' and Penn State's five PTA programs, in the community, and the University. She is a wealth of institutional knowledge as a University Faculty Senator. She is a contributor to each Mont Alto Faculty Staff (MAFS) meeting, a member of the MAFS Constitution Committee, a Colloquy presenter, the Chair of the University Smoking Task Force, and is known for her committee work at University Park."
"In addition, Renee was the driving force in creating, developing and arranging the annual PSMA Faculty Conference. She integrated Open Educational Resources (OER) in her pathophysiology course, supported the investigation of virtual reality in the classroom, and the use of social networking for recruitment and retention purposes for PTA (Facebook and Twitter). She included students in her collaborative research project on Grit and Resilience, participated in the Migrant Health Fair this past fall, and led five-campus PTA programs through a curriculum revision process. Renee sees what needs to be done and does it."
Martha Fisher Award for Excellence in Teaching (full-time): Beth Brantley, associate teaching professor in forest technology
Martha Fisher Award for Excellence in Teaching (adjunct): Marie Thompson, lecturer in nursing
SGA Award for Excellence in Advising: Beth Neisser, lecturer in mathematics
Faculty Scholar Award: Barrett Scroggs: assistant professor in human development and family studies
Organization Advisor of the Year: Donna Rhodes, student activities coordinator and program development
The Campus Builder Award – Presented by Randall Ackerman, director of campus development. "To recognize and reward a campus citizen who goes beyond doing their job well. … Builders are imaginative, creative individuals who work to build a better campus community. Their actions are not undertaken for professional advancement, nor are they isolated events, instead they form a pattern of selfless behavior that benefits the Mont Alto Campus community time after time."
Thomas Reinsfelder, head librarian. "This Campus Builder is recognized for regularly providing valuable information to students, faculty, and staff that has enhanced learning, scholarship, and administration across the Mont Alto Campus. He has provided early leadership in establishing the campus' annual Academic Festival and continues to provide events that offer a combination of learning and relaxation for our students. Faculty and staff have commented on the ease and speed with which he responds to requests for help and information. He is cheerful, diligent, and effective. An administrator and colleague, Tom is a recognized asset to the Mont Alto Campus. The high esteem felt by colleagues across the Penn State system resulted in his recent promotion."
Kimberly Herrmann, associate professor in astronomy and physics. "This Campus Builder is a relatively recent arrival who has made a considerable impact across our campus. She works closely with both students and fellow professionals. She has weekly interaction with our students in the classroom, including being a role model in our choral ensemble, the Chorale. Most recently, Kim volunteered as a chaperone on the Alternative Spring Break trip. She has had a leadership role in the Academic Festival and has excelled at connecting outside groups with our campus community. She has generously provided a platform for a wide range of faculty members to share their areas of expertise with a public audience. Regarding the Academic Festival, one nominator said, 'She is tireless in pursuit of excellence in this event for our students.' Another nominator said, 'She is an all-around treasure … and as such, is truly a campus builder.'"