New Discover Award allows tuition savings up to $26K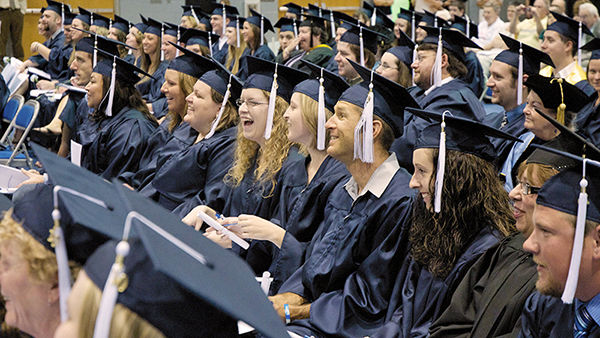 MONT ALTO, Pa. — Eligible students living in neighboring states to Pennsylvania can now save up to $26K at a Commonwealth Campus, thanks to a new Discover Award recently introduced by the University.
Through the Penn State Discover Award, qualifying students will save $6,000 per year in their first two years and $7,000 per year in their third and fourth years if they start their degrees at Penn State Mont Alto and finish here or at another Commonwealth Campus. This award does not apply to students attending the University Park campus. Qualifying students must be first-year undergraduates and reside in one of the following states: Delaware, Maryland, New Jersey, New York, Ohio, Virginia, and West Virginia, as well as the District of Columbia.
In addition, students who transfer from a community college for their junior year to Penn State Mont Alto or another Commonwealth Campus may be considered for an award of $6,500 a year for three years to help them earn a bachelor's degree.
The University is also committed to making a Penn State education affordable for Pennsylvania residents. Students who are residents of the commonwealth may be eligible for a Provost Award of $5,000 in their freshman and sophomore years, and $7,000 in their junior and senior years. The Provost Award will follow students to another Commonwealth Campus or to University Park. Eligible students may also be given a Chancellor's Award, which ranges between $1,000 and $6,000. Provost and chancellor awards may be stacked in some cases.
"Many high school students and their parents are overly influenced by sticker price first impressions without taking into account the ability of scholarships and financial aid to lower the net cost," said Francis K. Achampong, Penn State Mont Alto chancellor.
"Penn State Mont Alto is establishing itself as a leader in making a college education accessible and affordable to ordinary families who are resource-constrained," he said.
For decades, a college education has been the ticket to the middle class for many Americans, but today, many students and their families are concerned about the cost of attending college and are even questioning the value of a degree.
A recent study by Georgetown's Center for Education and the Workforce found that people with a college degree have held the best jobs in the economy over the last 25 years. Also, those who have a college degree earn more over their lifetimes and fare better during recessions. They are less likely to lose their jobs during a recession and are more likely to rebound if they do. They are also more engaged in our democracy and live generally healthier lives.
"Penn State Mont Alto is committed to ensuring that a Penn State education remains accessible and affordable to families with college aspirations," said Achampong.
Tuition at Penn State Mont Alto has remained flat for several years. In addition to the new Discover Award, the campus offers several awards and many scholarships to help make a Penn State education affordable. In fact, up to 87% of Penn State Mont Alto students receive some form of financial aid. In 2018, Penn State Mont Alto awarded $553,178 from endowments funded by generous donors to 335 students.
"One of my biggest goals is to succeed in college," wrote Lacey Hykes, health policy administration student, to her scholarship benefactor, "and because of your generosity and kindness, I am well on my way to achieving my goal," she said. Hykes is the 2019-20 recipient of the Vernon L. and R. Elaine Shockley Scholarship for Outstanding Academic Achievement.
"Without a doubt, this scholarship will play a key role in achieving my educational dreams. Because of your generosity, the financial burden placed on me to pursue my education will be reduced. That means I can spend more time on my studies, research, and extracurricular activities and less time worrying about my finances," she said.
Find out how Penn State Mont Alto is making a Penn State degree affordable at montalto.psu.edu/afford-web/news. Contact our Admissions team at 717-749-6130 or email [email protected]. The priority application date for students enrolling for fall 2020 is Nov. 30. Students can apply at montalto.psu.edu/afford-web/news-admission.